Faculty News

Assistant Professor Xavier Darzacq was a recipient of a California Institute of Regenerative Medicine (CIRM) Award. He is also leading the Berkeley component of a large, collaborative initiative to better understand gene regulation. Darzacq and his collaborators received a five-year grant from the NIH.

Assistant Professor Hernan Garcia received a 2016 Sloan Fellowship to study chemical signals that orchestrate the development of a single cell into a multicellular organism, and was named a 2016 Searle Scholar.

Assistant Professor Gloria Brar has received a 2016 Sloan Fellowship for her work studying the genes that regulate meiosis.
Professor Jeffery Cox has received a 2015 NIH Director's Pioneer Award for his project "Host-Directed Strategies to Create Synergistic Antibacterial Therapies."
Assistant Professor Evan Miller is a 2016 recipient of the Basil O'Connor Starter Scholar Research Award from the March of Dimes, a New Investigator Research Grant from the Alzheimer's Association, and a 2016 Sloan Fellowship.

Professor Jasper Rine was elected to the National Academy of Inventors for his contributions in the field of gene regulation.
Assistant Professor Roberto Zoncu has been named one of seven winners of the 2016 Damon Runyon-Rachleff Innovation Award for early-career scientists doing novel research into cancer.
Graduate Student and Postdoctoral Scholar News
The Outstanding Graduate Student Instructor (OGSI) Awards:
Across campus, this award annually honors more than 200 UC Berkeley GSIs for their outstanding work in the teaching of undergraduates. In MCB, the honors went to: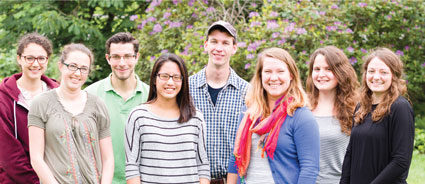 Left to right: Rachel Kjolby, Harland Lab; Alexandra Seletsky, Doudna Lab; Ryan Morrie, Feller Lab; Shion Lim, Marqusee Lab; Benjamin LaFrance, Nogales Lab; Amy Strom, Karpen Lab; Emma Carroll, Marqusee Lab; Alison Stanbery, Barton Lab.

James Nunez, a graduate student in MCB Professor Jennifer Doudna's lab, received the prestigious Weintraub Graduate Student Award.

Niranjan Srinivas, a postdoctoral researcher in MCB Assistant Professor Hernan Garcia's lab, received a fellowship from the Damon-Runyon Cancer Research Foundation.

Joseph Graham, a postdoctoral researcher in MCB Professor Matthew Welch's lab, received a University of California President's Postdoctoral and a Ford Foundation Fellowship.

Polina Kosillo, a postdoctoral researcher in MCB Assistant Professor Helen Bateup's lab, received the Tuberous Sclerosis Alliance Postdoctoral Fellowship Award.