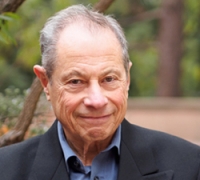 By Shana Singh 2016
It may be surprising to learn that some UC Berkeley faculty never truly "retire." As their golden years approach, faculty can choose to retire to open the doors for new recruits, but still continue to work — sometimes well into their nineties! Each year, to celebrate these generous contributions, Berkeley awards a $10,000 professorship to just one or two of its hundreds of emeriti. This year, MCB is excited to announce that our very own Jack Kirsch has received the prestigious UC Berkeley Edward A. Dickson Emeriti Professorship in recognition of his exemplary continued service in teaching, research, and public service.
This award gives us an opportunity to reflect on all that Kirsch has done for MCB and the broader campus community. But how does one properly thank an individual that has dedicated nearly 52 years of his life to not only an institution, but to generations of students? Two words: it's hard ...but here it goes!
Jack Kirsch was Professor of Chemistry, Biochemistry and Molecular Biology at UCB from 1964 until his retirement in 2006. He then became a "professor of the graduate school" (or POG, as some say) and continued his research programs for another eight years. One of these programs was centered around resolving the difficult problem of assigning protein function from DNA sequences, while another served to develop a computational algorithm that is able to identify mutations in an enzyme of choice that will decrease the catalytic activity. In addition to doing research, Professor Kirsch has also served on several committees, and continues to teach to this day.
Kirsch is recognized by UC Berkeley as a resource and researcher, a teacher and mentor, and a visionary for "big picture" changes at Cal and the community at large — but he is particularly recognized for developing and teaching a course titled "Sampling the Performing Arts at Berkeley," a freshman seminar designed to expose new students to the performing arts. Jack ensures that this class is open to any student interested, including low-income students, by providing free admission to the selected events.
This is a highly rated course. One student shares that "[Professor Kirsch] helped me feel at home in Berkeley by showing me all the great resources available here." Another says, "Professor Kirsch is really nice and led us to broaden our horizons on the sampling of art performances." Kirsch demonstrates that being a distinguished and world renowned biochemist doesn't bar one from cultivating other interests, such as the arts.
On receiving the Professorship, Professor Kirsch says, "It was a pleasant surprise to receive the Dickson Emeriti Professorship. This allows me to continue to offer performance art opportunities to freshmen. I'm looking forward to taking them to campus events and to occasional major venues like the San Francisco Opera, ACT, the Berkeley Rep, and the San Francisco Ballet."
Kirsch shows an unwavering dedication to UC Berkeley, from his research, to his multidisciplinary teaching efforts, to his continued involvement in mentoring graduate students to his participation in scholarship. And above it all, he serves humbly: "The university is very generous in allowing faculty to have as soft a landing into retirement as needed. If a faculty member would like to continue with research, interacting with colleagues, and teaching, there is a place for them — and even office space — on campus. Retirement from academic positions is much kinder than retirement outside the university."
We certainly are lucky to have Professor Kirsch on this campus today — we thank him for all he does on this campus and congratulate him on receiving the well-deserved Dickson Emeriti Professorship.