Learn what we've been up to...and for the next issue, we'd like to know what you've been up to! Let us know here.
Sign up to receive MCB Transcript email notifications

Other ways to stay connected...
Help Fund the Future of Discovery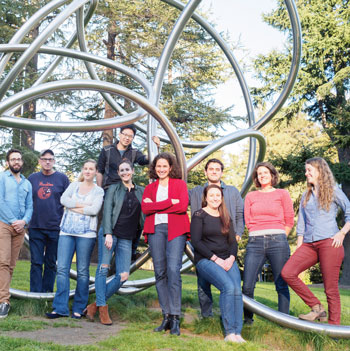 UC Berkeley's Department of Molecular & Cell Biology consistently generates new ideas, performs top-tier research, and produces world-renowned scientists. However, the funding landscape has changed and state support for public universities is not what it once was. In order to maintain and grow the scope of our work, we need lasting resources. Private gifts will enable us to continue making landmark discoveries and preparing the next generation of leaders in the biological sciences.
From cryo-EM facilities to cell cultures, our five divisions each have distinct needs, but they all have one thing in common — the demand for top graduate students. Graduate student support is the department's top priority, as we compete globally for the best students with well-funded peer institutions. Berkeley's grad students go on to become leaders in academia, government, and industry — as well as Nobel laureates, MacArthur geniuses, and Lasker Prize winners.
If you're interested in exploring ways you can help us continue our tradition of excellence, we'd love to hear from you. Contact Kirsten Swan, Senior Director of Development, at (510) 643-2228 or kswan@berkeley.edu. You may also choose to donate online here.
Credits
MCB Transcript is published twice a year by the Department of Molecular & Cell Biology at the University of California, Berkeley.
WRITING: Kirsten Mickelwait
PROOFREADING: Cameron Exner
DESIGN: Betsy Joyce
WEB VERSION: Monica Albe
MCB Newsletter
University of California
Department of Molecular and Cell Biology
142 Life Sciences Addition #3200
Berkeley, CA 94720-3200
Send address changes to:
University Development and Alumni Relations
1995 University Avenue, Suite 400
Berkeley, CA 94704-1070

Or e-mail ursa@berkeley.edu
*Image Caption: Transmission electron microscopy (TEM) of bone-marrow derived macrophages infected with a mutant strain of Listeria monocytogenes. The micrograph shows a bacterium entrapped in a vacuole with multiple layers of membranes resembling multilamellar bodies. TEM experiments were performed at the Electron Microscope Lab (UC Berkeley) in collaboration with Kent McDonald. Image courtesy of Dan Portnoy and Gabriel Mitchell.