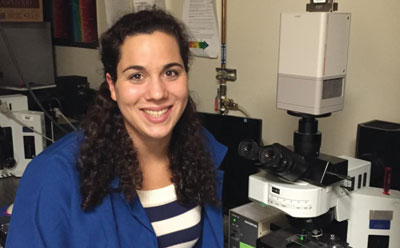 The next time you feel your life is too busy, just think of Rachael Acker. The Berkeley senior maintains a 3.957 cumulative GPA as a French major while she pursues other courses for her pre-med track. Since her freshman year, she has worked in the Heald Lab, studying what regulates biological size. She was recently awarded the Pac 12 Women's Swimming and Diving Scholar Athlete of the Year — an award that honors student athletes who excel both academically and in a sport. During her athletic career, she swam in 12 events at the NCAA Championships, winning one national title and scoring in two others.
Acker, who trains 20 hours a week, manages her schedule with a calendar on her iPhone and by keeping endless lists. "It's definitely tough," she says. "But because I'm passionate about everything I've chosen to do, it makes working hard more fun." If she were to draw a Venn Diagram of her interest in swimming and science, she says, "both are incredibly collaborative environments. Both science and sports are about teamwork, where every individual brings different expertise and talents."
Don't expect her to slow down after graduation this spring. Acker recently received a Fulbright Scholarship to work with a research group at the University of Rennes in France for ten months, after which she plans to attend medical school. She was also named a 2016 University Medalist runner-up. And she's qualified for Olympic Trials this summer!
Hear more about Acker's Fulbright: