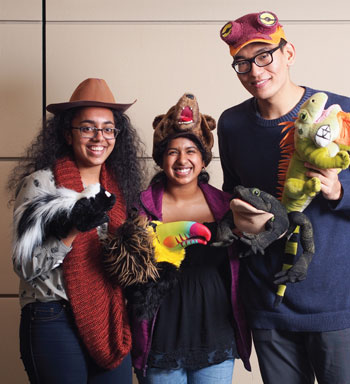 On January 21, more than 200 students — representing fields from computational biology to stem cell research — gathered at the Li Ka Shing Center for a lively, student-organized networking event. Sponsored by the Dean of Biological Sciences and hosted by undergraduate students in Molecular & Cell Biology, the event included 26 student clubs and organizations and allowed attendees to exchange information on research and volunteer opportunities, DeCal classes, clubs, and career options. And the photo booth — complete with biology-themed props — was a big hit.
Pictured Left: Enjoying the photo booth are, from left to right, undergraduates Roshni Patel, Nisha Balabhadra, and Charles Li — all members of the club "Align: Undergraduate Society for Computational Biology."
Click here to see the full list of participating clubs and organizations.
If you're a local organization with internship or volunteer opportunities for undergrads, please contact the Undergraduate Affairs Office at mcbuao@berkeley.edu to participate in the next one!
Watch the event slideshow: