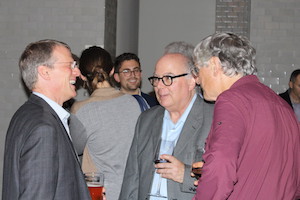 UC Berkeley MCB hosted its 2nd annual networking reception for over 100 MCB alumni and friends working in the healthcare, biotechnology, and financial industries during the 37th annual JP Morgan Healthcare Conference in San Francisco earlier this week. The reception was a time to catch up with old classmates and faculty, make new connections with various Cal alumni (Chemistry, EECS and Bioengineering), and meet industry professionals from innovative companies wanting to create new ties.
MCB Professors Michael Botchan (Dean of Biological Sciences) and David Drubin (MCB Co-Chair) celebrated the accomplishments of our alumni in the industry with attendees. They spoke about the importance of industry networking events for the success of alumni, current students, and industry affiliates and about the department's commitment to strengthen our relationship with industry. MCB believes a strong network of friends and collaborators in industry will foster research and innovation that positively affect healthcare around the world.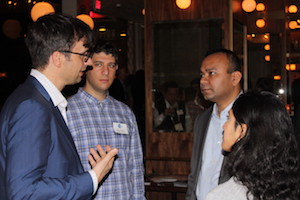 Interested in attending our next alumni event? Join us on May 4, 2019, to celebrate the 30th anniversary of MCB: mcb.berkeley.edu/mcb30
Learn more about how MCB is working to strengthen our ties to industry through our Industrial Affiliates Program and the Biology+Business Program, which support the career development of MCB students.