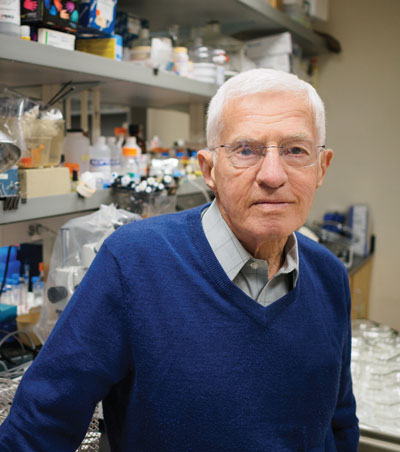 For undergraduates and grad students, the full-time university experience typically ends after four to six years. But for Berkeley's renowned faculty, it's often a lifelong relationship. There are even those who choose to continue teaching after their official retirements as they are far from ready to stop doing what they love. This year alone, five MCB professors have chosen to return to or stay in the classroom as emeriti: Richard Calendar, John Gerhart, Jack Kirsch, Fred Wilt, and Robert Zucker.
A professor emeritus of the graduate school, Fred Wilt arrived at Cal in 1964 and retired in 1994, but he has continued to teach lower-division classes in developmental biology as well as serve as assistant dean and student adviser. For Wilt, the interaction with students never gets old, although he would happily give up grading papers and exams. Have undergraduate students changed over the years? "The Internet has changed the way we teach, of course," he explains. "But students are basically the same as they've always been. And I've gotten a little more mellow over the years."
Because his students are often taking his classes to satisfy a biology requirement and not to continue in the field, Wilt tries to mix things up to keep it interesting. Recently "I started to focus more on evolution," he says. "It was fun — I'm always learning something new."
MCB thanks all of its dedicated emeriti faculty!