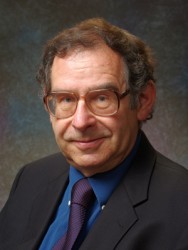 Professor Emeritus of Cell & Developmental Biology G. Steven Martin has agreed to serve as Interim Vice Chancellor for Research for the Fall 2017 semester. He replaces Paul Alivisatos who is now the Executive Vice Chancellor and Provost. 
Steve most recently served as dean of the Biological Sciences Division in the College of Letters and Science from 2011 to 2016. In his role as dean, Steve maintained the division's research excellence, supervised the recruitment of 25 new faculty members, and oversaw the successful retention of 12 others. The Departments that comprise the Biological Sciences Division - Molecular & Cell Biology and Integrative Biology - continue to receive high rankings and attract outstanding students and faculty.
Throughout his tenure as dean, Steve also supported the creation of and fundraising for a number of major research and educational initiatives including the Innovative Genomics Initiative, the Immunotherapeutics and Vaccine Research Initiative, and the Berkeley BRAIN Initiative. He also raised funds to support the Biology Scholars Program - one of the nation's most successful STEM diversity programs - and secured the establishment of three new endowed chairs. As dean, Steve was heavily involved in the transition to, and ongoing relationship with, Campus Shared Services, and he will bring to this interim role an on-the-ground understanding of research administration as well as demonstrated success in fostering faculty-led interdisciplinary research programs. 
Welcome, Steve! And thank you for your continued dedication to MCB and the UC Community.
                                                 (Text taken from the email of Carol Christ and Paul Alivisatos)