The GAO
The Grad Graduate Affairs Office (GAO) is tasked with supporting both graduate student trainees enrolled onto the Ph.D program and Faculty members of the Department. The GAO attempts to ensure that students are protected from the malaise, which can inflict students navigating a large University.
Staff have functionally specfic areas of work; including outreach and admission, recruitment and student life, financial support and resource allocation.
Carina Galicia, Director of Student Services
Functional Responsibility: Carina manages GAO operations including graduate advising, admissions, recruitment, funding, training grants, teaching assignments and conflict resolution.
Hannah Bloom, Graduate Student Advisor
Functional Responsibility: Hannah is responsible for admissions, qualifying exams, first year rotations, and other parts of general student advising.
Bio: My name is Hannah and I'm a Berkeley native and began working for UC Berkeley in May 2018. I was first introduced to student advising when working for the UC Education Abroad Program in London, where I helped study abroad students navigate a foreign university system and culture. I loved getting to know the students, and this experience inspired me to look for more work with students in higher education.
Mission: At a large university like UC Berkeley, it's important to me to give each student individualized attention and a more personalized experience. Stop by with any questions or concerns, or just to say hi!
When Not at Work: I'm currently working towards a master's degree and trying to figure out a work-life balance!
Future Travel Plans: Indonesia, especially Borneo to see the orangutans! Also New Orleans and Seattle, I'd like to see more of the US.
Favorite Food: Anything made with sweet potato, I'm always trying out new recipes.
Favorite Aspect of UC Berkeley: All the nature on campus. It's so nice to look out my window and see dozens of trees.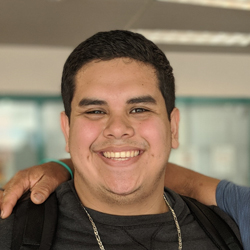 Carlos Garcia, Graduate Student Advisor
Functional Responsibility: Carlos is responsible for general graduate student advising, graduate student instructor assignments, and event organization such as recruitment and orientation.
Bio: I earned my undergraduate degree here at Cal in 2016 and earned my master's degree from San Francisco State University in 2019, both in philosophy. While at SF State I had the privilege of teaching philosophy to undergraduates, with a primary focus on critical-thinking concepts and ethical reasoning. Teaching at SF State solidified the love I have of working with students, and am now fortunate to be back at Cal and working with students here.
Mission: To help any student in the best way I can. I want students to feel supported while pursuing their higher education here at Cal.
When Not at Work: I enjoy playing and watching basketball and football. I don't have any favorite teams, but am a huge fan of LeBron James and Colin Kaepernick. For fun I really like to explore philosophical themes in media such as movies, tv shows, and video games. Which really means I just like watching and doing stuff, then asking "But why though?" at the end.
Favorites:
Favorite TV Show: Breaking Bad
Favorite Video Game: The Last of Us
Favorite Movies: Coco, Spider-Man: Into the Spider-Verse, Arrival
Favorite Aspect of UC Berkeley: The different people that I meet who enrich the community of UC Berkeley.
Eric Buhlis, Graduate Student Financial Specialist
Functional Responsibility: Eric is responsible for providing a broad range of training grant and graduate student financial support. He oversees graduate funding packages for current students, and coordinates training grant administration, data gathering, reporting, as well as RPPR and renewal submissions.
Bio: My name is Eric and I was working in the College of Chemistry when my supervisor transferred to MCB. She saw an opening for me and the rest is history! I've been with the GAO for 15 years and I've been at CAL for almost 16 years.
Favorite Cal Sports Team: Cal Football, Go Bears!
Where is my photo? I am not a fan of picture taking.