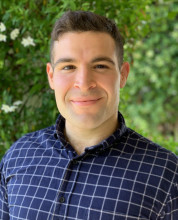 Jordan Elmowitz
IB and MCB Academic Advisor
Hometown: Monroe, NY
Education: 
B.F.A. in Photography and Sculpture from The College of Saint Rose, Albany, NY
What I did/experience before Cal? Prior to joining the advising team hear at Cal, I worked as an Academic Advisor at California College of the Arts, on the San Francisco campus. I worked across several divisions from Architecture, Design, and Fine Arts. In addition to my advising work, I enjoyed collaborating with Student Life and helping with their student-focused activities. It was incredibly fruitful to engage with students in a different aspect and build stronger connections. 
What you love about Cal and working in the UAO? I feel very fortunate to be surrounded by so many inspiring students pursuing their dreams and working harder than they've ever worked before. I enjoy hearing about their research and class experiences, I learn so much from them about what it means to be a student here. It is also incredibly moving to see all the activism and tabling students do around campus, sharing information they're passionate about. 
Interests: Art, music, traveling, new food experiences, third-wave coffee, Muay Thai, Brazilian Jiu-Jitsu, and my two beautiful Pitbulls Marty & Chenille.
Life Motto: Use art to help you process the more complicated parts of your life. -Inspired by Carrie Mae Weems.
Advisor Tip: Take this opportunity to push past the feelings of imposter syndrome and ask questions, start dialogues, and add your voice to the conversation. It's so important to embrace this unique time in your life when you have access to so many brilliant minds, both peers and faculty. The relationships you build now will help you find your path in life after graduation.