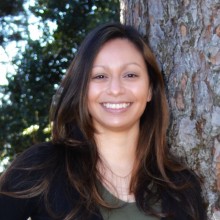 Carina Galicia
Assistant Director of Student Services
Hometown: Los Angeles, CA
Education: B.A. Film Studies, UC Berkeley
What I did/experiences before Cal? I always knew that I would go to college, but I didn't know what I wanted to major in, so I worked in television production soon after graduating from high school. I spent a few years at a small production company, and later at a major sports television network where I worked as a production scheduler in charge of managing the schedules of the freelance production crew to meet the broadcast needs of the network. My work in television inspired me to pursue a degree in Film, and I spent a few years working full-time while going to community college in the evenings. I was accepted to UC Berkeley as a transfer student in 2007, and I have been here ever since.
Once at Berkeley, my transition to student affairs began through my work as an orientation leader with Cal Student Orientation (CalSO) the summer after my junior year, which continued the following year as the student coordinator for the Transfer/Fall Program for Freshman orientation programs. I also studied abroad in Lyon, France during my senior year, which was one of the highlights of my undergraduate experience. Though my current work experience is unrelated to my undergraduate degree, I love the exposure that it gave me in areas of film/art history and theory, philosophy, and critical studies (to name a few), and I am a firm believer in the importance of the humanities and liberal arts in education.
What you love about Cal and working in the UAO?
My favorite part about coming in to work is the students. I have been fortunate to have developed really great relationships with current students and those who are now alumni over the years. Throughout my time at Cal, it's been great to see the advising community grow and flourish into the support network that it has become, and it's great to work in an office where everyone is deeply invested in the success of our students. As a Cal alum, I feel lucky that I can continue to be a part of the community.

Interests: photography, abstract art, french new wave films, reading (Haruki Murakami is a favorite), running, sushi, persimmons, exploring new music, traveling, the occasional Netflix binge
Life Motto: "I saw that my life was a vast glowing empty page and I could do anything I wanted." ― Jack Kerouac
Advisor Tip: It can be challenging to figure out the next 5-10 (or more!) years of your life, so focus on the best next step for you to take, and then figure out what the best next step is from there. Always keep an open mind. The best opportunities tend to come up when you're least expecting them.