Promoting Wellness and Resilience at MCB
By Kirsten Mickelwait
You're studying or teaching at one of the most highly respected research universities in the world, surrounded by brilliant, creative people. Everything's great, right? In fact, only recently have "high-knowledge environments" like UC Berkeley recognized that the academic culture can be incredibly stressful. Risk and failure with experiments, competition for funding, uncertain career prospects, and imposter syndrome are just a few of the challenges to our mental health.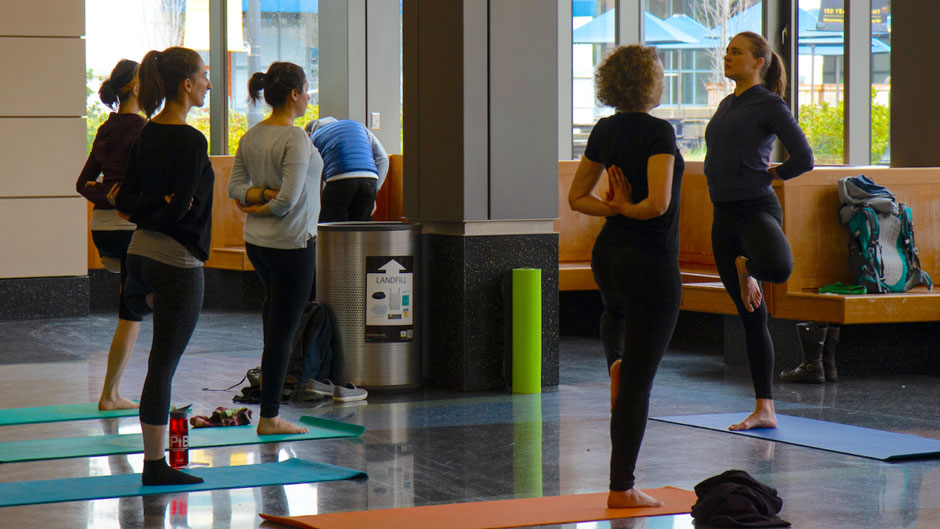 MCB Wellness Symposium attendees in a group yoga class. Photo credit Madeleine Jensen.
At MCB, we're invested in the emotional wellness of our students, postdocs, faculty, and staff. To that end, we've created several initiatives designed to support the whole community. The MCB Wellness Committee comprises faculty, staff, postdoctoral fellows, graduate students, and undergraduate students. Created in 2018, it has been active in raising awareness, informing departmental policy, and increasing visibility and access to mental health resources.
Founding committee member Matthew Welch, professor and head of the Division of Cell & Developmental Biology, remembers his own struggles with confidence as he started graduate school: "I definitely had that feeling this was a terrible mistake—I was surely going to fail," he says. "It takes a long time to gain perspective and confidence, and this is particularly acute for people from underrepresented communities or those who are the first in their family to attend college or graduate school." He stresses that it's important to remind people that such fears are normal for successful people at all levels of their careers.
Partnering with the MCB Grad Network, the Wellness Committee hosted the inaugural Wellness Symposium for students, faculty, and staff in early 2019. The event was held in honor of the late MCB PhD alum Cris Alvaro and focused on the importance of de-stigmatizing discussions of mental health in academia and emphasized mental health as an essential aspect of wellness.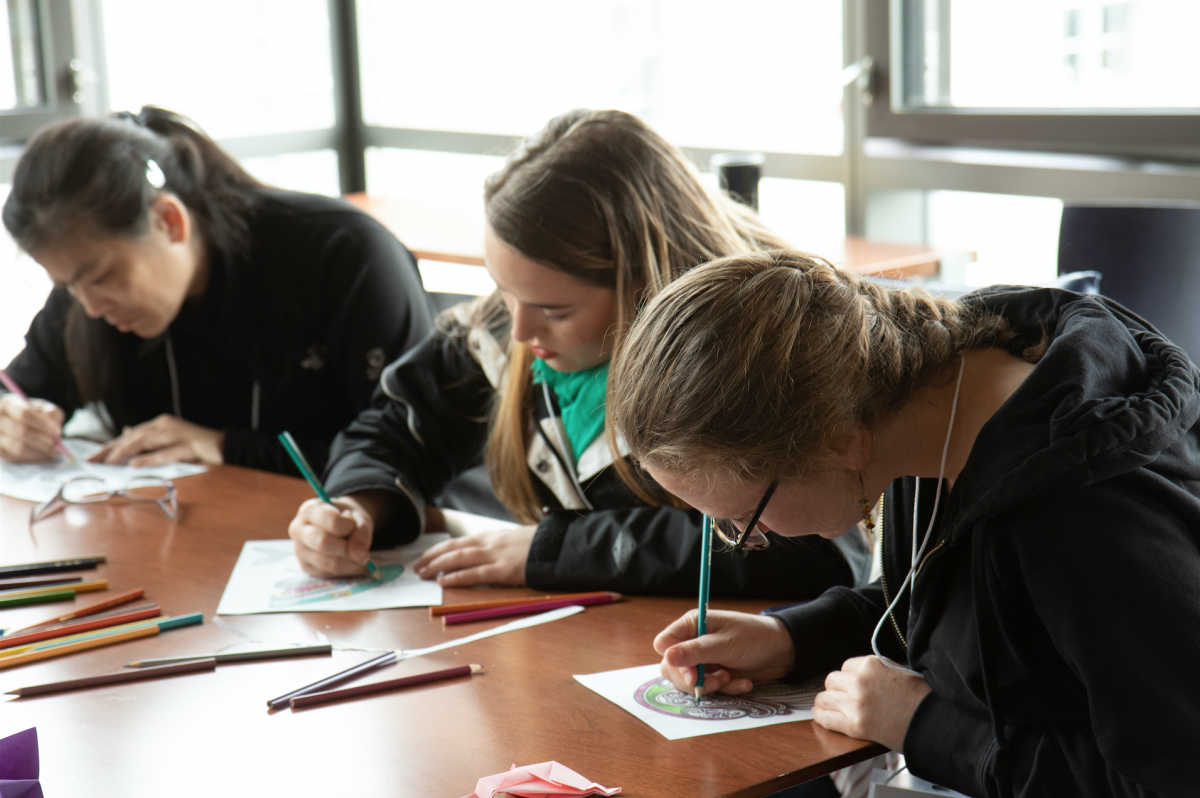 Attendees at the MCB Wellness Symposium had the opportunity to participate in activities like swing dancing, arts and crafts, and nature walks. Photo credit Madeleine Jensen.
Professor of Cell and Developmental Biology David Bilder has been involved in the NIH Resilience Training Program, a pilot program developed by the National Institutes of Health (NIH) for graduate students and postdocs in the sciences across 50 institutions nationwide. Held from January through May 2021 in collaboration with University Health Services and the California Institute for Quantitative Biosciences (QB3), the program offers webinars and a small-group cohort for more intensive resilience training. Topics include stereotype threats, emotional intelligence, self-advocacy, assertiveness, developing feedback resilience, and "managing up" to maximize mentoring relationships.

"Resilience goes beyond issues of mental health," Bilder says. "It's the ability to not just overcome adversity but to grow from it. Scientists are trained to be highly critical, and we tend to identify closely with our experiments, which frequently fail. So learning skills to manage these struggles and maintain energy and optimism are critical for both wellness and professional success."

MCB is committed to enhancing wellness in the department and plans to participate in a certification process offered through University Health Service to create a sustainable healthy workplace community. It also intends to apply for a grant to direct funds toward even more wellness efforts, including future wellness symposia and increasing its resilience training to include undergrads.


For videos and webinars supporting wellness, resilience, and mental health, see the NIH Office of Intramural Training and Education's YouTube channel here.
Banner image photo credit Shutterstock
Back to Main Spring 2021 Newsletter Page