Faculty News


Professors Jamie Cate and Christopher Chang were elected to the American Academy of Arts and Sciences.

Professor Diana Bautista has been appointed the Class of 1943 Memorial Chair. This chair is rotated among UC Berkeley disciplines and departments at the discretion of the Chancellor.


Professors Russell Vance and Matthew Welch were named new fellows of the prestigious American Academy of Microbiology by the American Society for Microbiology, an honor bestowed on only 15 other MCB faculty since the early 1990s.

UC Berkeley alumnus (PhD 1983, Thorner Lab) and UCSF Professor David Julius has been awarded the 2017 Canada Gairdner International Prize for his groundbreaking pain research.
Assistant Adjunct Professor Jacob Corn has received a $4 million grant from the California Institute for Regenerative Medicine (CIRM) to develop CRISPR-Cas9 genome engineering into a cure for sickle cell disease. Funding will support the ongoing collaboration between the Corn lab, physicians, and sickle cell experts Mark Walters and David Martin of UCSF Benioff Children's Hospital Oakland Research Institute (CHORI), and stem cell and gene therapy specialist Don Kohn of UCLA.

Assistant Professor Gloria Brar received an American Association of Anatomists Young Investigator Award and presented the R.R. Bensley Award Lecture at the association's April 2017 meeting.

Chair of the Bioengineering Department and MCB Affiliated Professor Dan Fletcher was one of the thirteen UC Berkeley faculty who were named Chan Zuckerberg Biohub Investigators.

Professor Rebecca Heald received the UC Berkeley 2016 Faculty Award for Excellence in Postdoctoral Mentoring. This marks the second time she has received the award during her tenure at Berkeley.

Physics and MCB affiliate Associate Professor Ahmet Yildiz was honored with the Michael and Kate Bárány Award from the Biophysical Society. He also received a Vilcek Prize for Creative Promise, which was established to encourage and support young immigrants who have already demonstrated exceptional achievements, and who often face significant challenges early in their careers.

Assistant Professor Polina Lishko received the 2017 Matthew P. Hardy Young Andrologist Award of the American Society of Andrology. This prestigious award recognizes individuals who are young scientific leaders and rising stars in the field of andrology.

Professor John Kuriyan has been honored with the 2017 Stein and Moore Award of the Protein Society, which recognizes eminent leaders who have made sustained, high-impact research contributions to the field.

Assistant Professors Stephen Brohawn and Elçin Ünal received 2016 NIH Director's New Innovator Awards, which support "exceptionally creative, early-career investigators who propose innovative, high-impact projects."

Professor of the Graduate School Frank Werblin will receive the eighth annual Jay Pepose '75 Award in Vision Sciences from Brandeis University.

After departmental and campus Budget Committee review, Craig Miller was granted tenure. Congratulations Associate Professor Miller!

Professor Jennifer Doudna was presented with the Luminary Award at the 2017 Precision Medicine World Conference. She also received the Japan Prize in the Life Sciences, the BBVA Foundation Frontiers of Knowledge Award in Biomedicine, and was runner-up for TIME's 2016 Person of the Year Award. The European Patent Office announced its intent to issue a broad patent for the CRISPR-Cas9 gene-editing technology to UC Berkeley, the University of Vienna, and Emmanuelle Charpentier. She was named a 2017 Miller Senior Fellow, and also received the 2017 Cotton Medal from Texas A&M University.


Professors Randy Schekman, David Drubin, and Douglas Koshland were named ASCB Fellows by the American Society for Cell Biology. They are recognized for their lifetime achievements in advancing cell biology. Professor David Drubin was also recently appointed as a Senior Fellow of the Allen Institute for Cell Science.
Graduate Student & Postdoctoral Scholar News
The Outstanding Graduate Student Instructor (OGSI) Awards:
Across campus, this award annually honors more than 200 UC Berkeley GSIs for their outstanding work in the teaching of undergraduates. In MCB, the honors went to: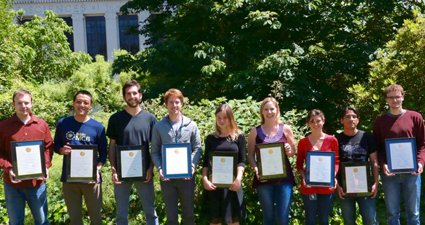 From left to right: Mark Stepaniak, C. Miller Lab; Zichong Li, Zhou Lab; Mathew Summers, Feller Lab; Frederick Ward, Cate Lab; Helen Vander Wende, Brar Lab; Kelsey Van Dalfsen, Brar Lab; Liliya Gabelev, Lishko Lab; Gilberto Garcia, Dillin Lab; Eduardo Ansaldo Gine, Barton Lab.


MCB Postdoctoral Researchers Michelle Antoine, in Professor Daniel Feldman's lab, and Adam Perez in Professor Jeremy Thorner's lab, have both received prestigious Ford Foundation Fellowships.

Benjamin Oakes, a graduate student working in the labs of Professor Jennifer Doudna and Assistant Professor David Savage, received one of the IGI Entrepreneurial Fellowships. This new fellowship catalyzes the translation and commercialization of transformative scientific products by supporting critical foundational research and professional networking for two years.

Ryan Morrie, a graduate student in Professor Marla Feller's lab, was awarded the 2017-2018 University of California Dissertation-Year Fellowship.

Assistant Professor at Montana State University, Blake Wiedenheft, a former postdoctoral scholar in the Doudna Lab, received a Presidential Early Career Award for Scientists and Engineers (PECASE).

Professor Nipam Patel's graduate student, Aaron Pomerantz, was one of four awardees from around the world that the iBiology video site recognized with its 2017 Young Scientist Seminars (YSS) award. This award recognizes outstanding young scientists who are talented communicators.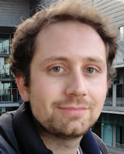 Postdoctoral researcher Thibaut Brunet, in Professor Nicole King's lab, has received a 2017 HFSP Fellowship, which supports high-risk, ground-breaking projects.
2017 NSF Graduate Research Fellowships
Congratulations to the graduate students in MCB faculty labs who received NSF fellowships:
Holly Gildea, Dillin Lab; Davis Goodnight, Rine Lab; Daniel Saxton, Rine Lab; Kyle Demarr, Patel Lab; Henry Pinkard, Fletcher Lab; Tiama Hamkins-Indrik, Fletcher Lab; Emily Powers, Brar Lab; Kristen Legault, Komeili Lab; Joseph Aman, Feldman Lab; Mathew Summers, Feller Lab; Fernando Alvarez, Nomura Lab.

And click here to tell us what you've been up to!