Student, Scientist, Entrepreneur
Isha Ukani is exploring the next generation of plant-based foods
By Kirsten Mickelwait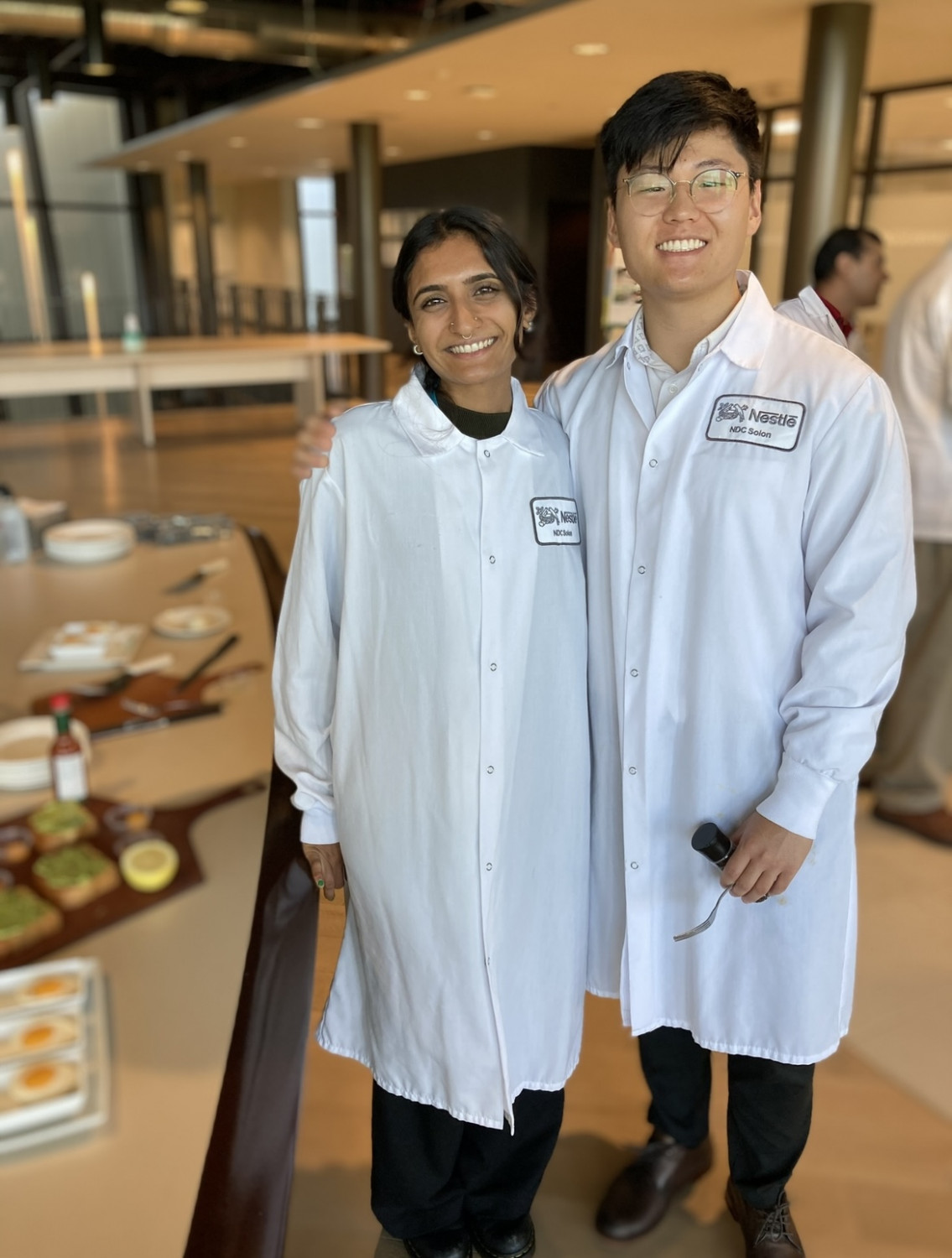 Isha Ukani grew up in Simi Valley, California, a first-generation American in a family originally from Gujarat, India. Descended from a long line of farmers, her father taught her about the plant world as he worked in the family garden. By the time she got to high school, Ukani was passionate about science, particularly botany, which led to an interest in molecular biology and biotechnology. Now, that early exposure to nature is already shaping her career.

The fourth-year MCB biochemistry major is currently taking an academic pause of one or two semesters to found a new plant-based food company, Hardly Foods, with fifth-year data science major James Wang. The pair is working to incorporate the start-up as well as close a deal for a six-month accelerator program with Nestlé that will enable them to prototype their first project, a plant-based egg—both hard-boiled and soft-boiled.

"Current egg alternatives are limited to scrambled-egg powders and liquid mixtures, which lack versatility, taste, and nutritional value," she says. "We've mastered the exact appearance, texture, and nutritional value of the egg, and are now working on the taste." As part of the program, Ukani and Wang will work with food scientists, chefs, packaging experts, and a dedicated R&D team to test the product and eventually develop in-house technologies.

The egg idea was conceived when Ukani attended the Alternative Meats (Alt: Meat) X-Lab through Berkeley's Sutardja Center for Entrepreneurship and Technology (SCET) last spring. There she worked with Wang and a diverse group of Berkeley students and entrepreneurs from across campus to explore the next generation of foods, including dairy substitutes, alternative sources of fats and proteins, and plant-based meats. Projects were enhanced by the guidance and participation of start-up founders, researchers, and industry leaders.

"When I first joined Alt: Meat, I was just curious to see if I could develop my own plant-based product," Ukani says. "But I also learned to utilize my background in biochemistry and become more comfortable pitching in front of an audience." So comfortable, in fact, that when Ukani and Wang pitched Hardly Foods at SCET's annual project showcase—the Collider Cup—last May, they won in the "most innovative technology" category.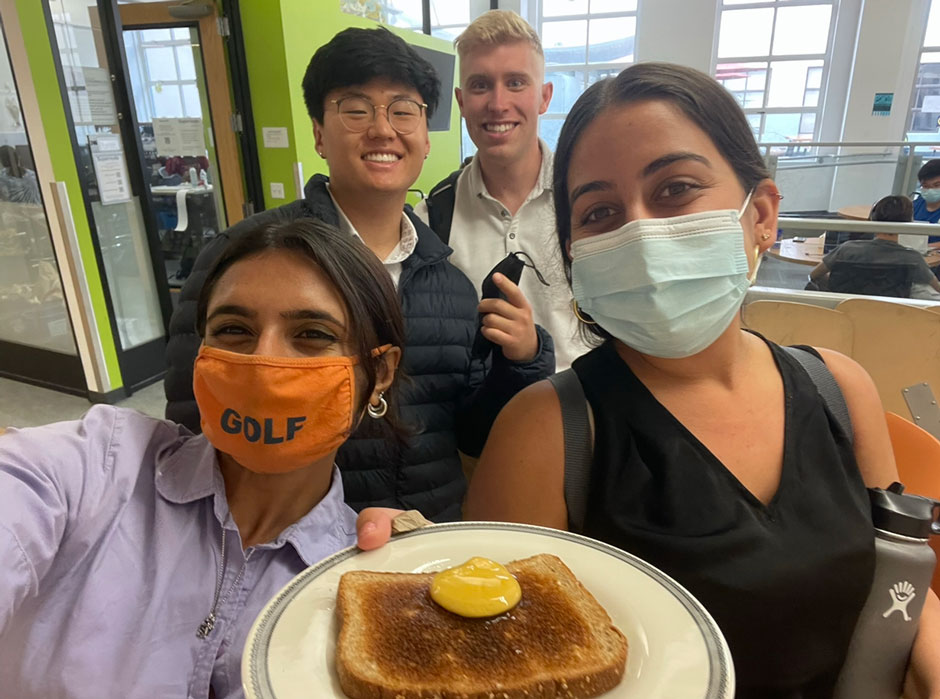 Having grown up in a vegetarian family, Ukani is well aware of cultural dietary restrictions. "Currently, there aren't a lot of plant-based foods that cater to the cuisine of other cultures," she says. "Food is such an important part of my life. It ties me to my heritage. And so, throughout our R&D process, James and I have tried to make our product versatile enough to accommodate many other cultural dishes."

In addition to her academic work, Ukani has been a contract employee at Nectar Foods since late 2020 and a research associate intern in cell engineering at Ascend Gene & Cell Therapies (a member of the MCB Industrial Affiliates Program) since last summer. Between those two commitments, she's been working about 30 hours a week.

She initially worked at Nectar Foods' wet-tissue lab developing a plant-based meat from fungal mycelium, feeding her interest in molecular biology. Gradually, though, she took on additional roles in marketing, product development, product packaging, and even graphic design. Such broad experience helped her to acquire and master new skills across the company that now contribute to her own entrepreneurial path.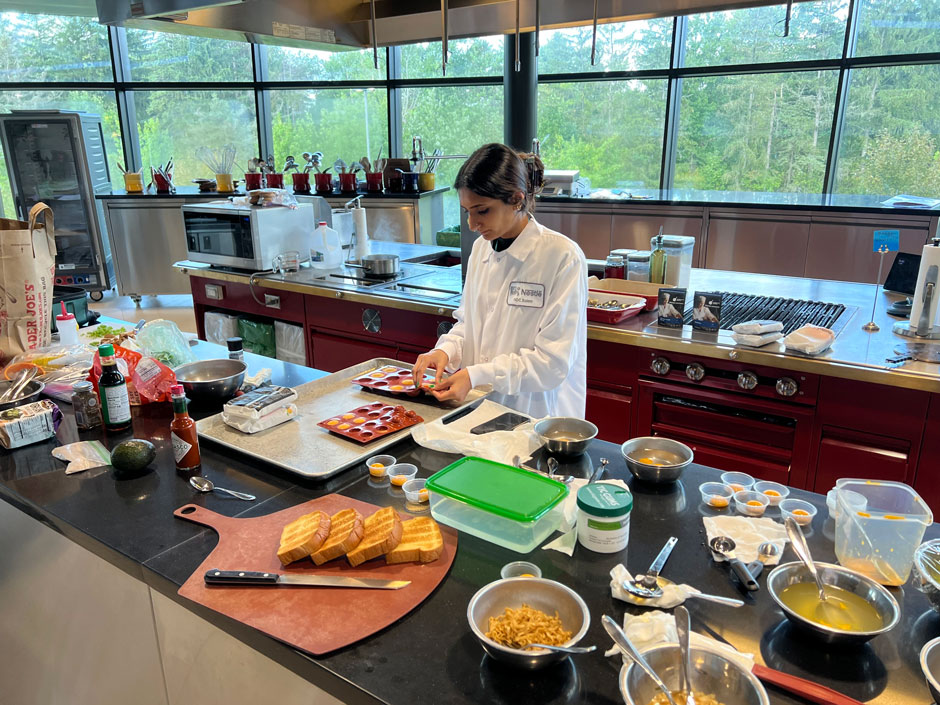 At the Alameda lab of Ascend Gene & Cell Therapies, Ukani seeds and transfects recombinant cell lines to ultimately engineer gene therapies that treat, prevent, or potentially cure diseases. Because Ascend is based in the U.K., she's part of an international team with global communication and collaboration—another valuable lesson for her own nascent start-up.

"I definitely view myself as both a scientist and entrepreneur, and hope to pursue both of these careers in biotech, whether that be medical, commercial, or environmental," she says. "What's great about biotech is that it has a sector in each of these areas, so I'm not limiting myself to a particular industry. I want to create an impact wherever I can."

To other students interested in using their science education in alternative ways, Ukani offers this advice: "If you're passionate about different topics, don't limit yourself. Don't be afraid to branch out from your typical MCB courses and see where your knowledge can be applied. Even if you feel like you don't have the skills to pursue something, put yourself out there—send a cold email, talk to people in the field. You never really know until you try."
To learn more about Hardly Foods, or to reach out to Isha Ukani directly, you can email her at hardlyfoods@gmail.com or connect via her LinkedIn profile.
Back to Main Fall 2022 Newsletter Page