New MCB task force listens to students to improve remote instruction
By Rachel Henderson
When in-person classes at UC Berkeley ended abruptly in March 2020 due to the COVID-19 pandemic, instructors quickly pivoted to online classes. One of those instructors, MCB PhD student Madeline Arnold, decided to improve the experience for students by initiating the MCB Distance Learning Task Force. The task force uses student feedback and evidence-based strategies to help MCB instructors deliver more effective and inclusive online courses.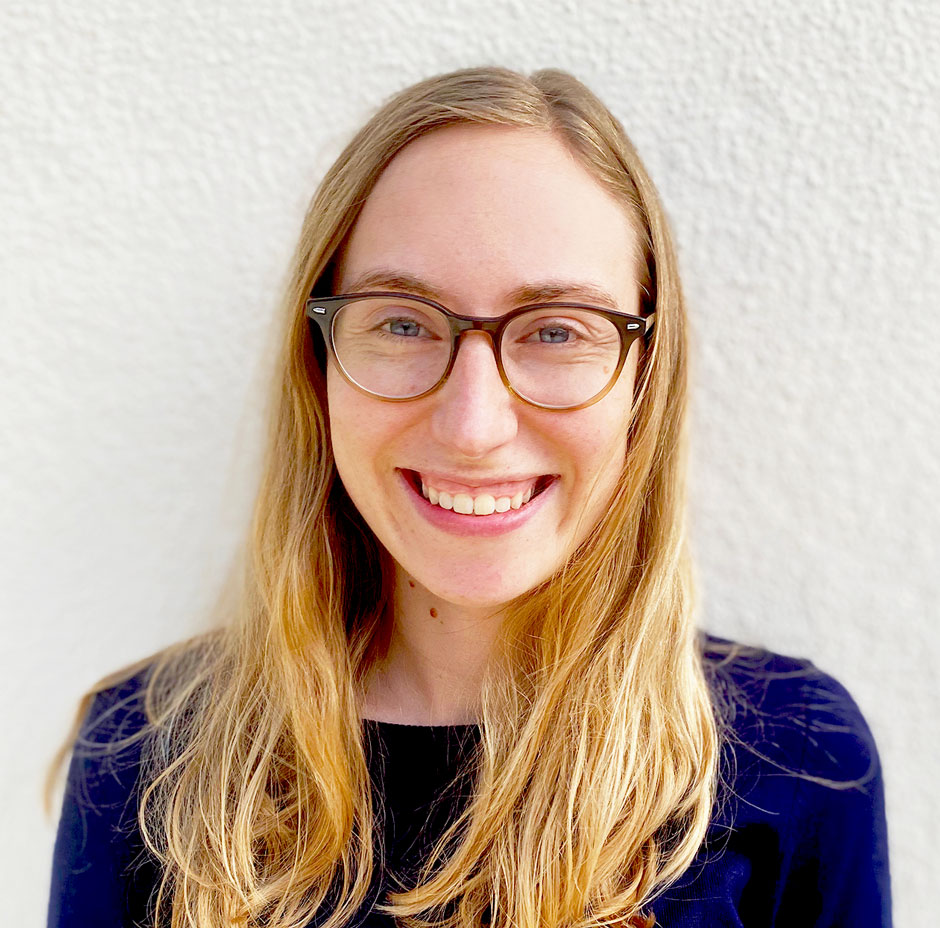 MCB PhD student Madeline Arnold
Arnold, who is interested in pedagogy, was concerned that the shift to online classes could exacerbate existing inequities — particularly for students who are low-income, underrepresented minorities, or the first in their families to go to college. "If we don't address how to change remote learning to be the best that it can be for the broadest number of people, it can perpetuate these systemic issues that are already a problem in higher education," she says.
Arnold's partner is a high school teacher, and she was inspired when she saw him and his colleagues actively discussing ways to improve distance learning for their students. She wanted to help facilitate those kinds of conversations in MCB over the summer, before courses returned (fully online) in the fall. She discussed her idea with Abby Dernburg (professor of cell and developmental biology and chair of the MCB undergraduate affairs committee), who encouraged her to pursue it. Arnold assembled the MCB Distance Learning Task Force by reaching out to graduate students and faculty interested in pedagogy, inviting leaders of MCB undergraduate groups, and sending out an open call for members to the department. The task force now has about 20 members — split roughly equally between faculty, staff, graduate students, and undergraduates. "I thought it was important to get a wide range of voices and stakeholders," Arnold says.

The task force's first step was to develop a survey to ask undergraduates about their experiences with remote MCB courses in the spring and their needs and expectations for the fall. MCB lecturer Robert Beatty helped develop the survey, and Arnold says he was critical in helping them understand what faculty members might want to learn from it. Other members of the survey team included undergraduate task force members Joseph Moreno, Kathleen Navas, and Nicole Xu, and graduate student members Alyssa Bormann and Maria McSharry. In addition to helping develop the survey, the students played key roles in analyzing, interpreting, and presenting the results.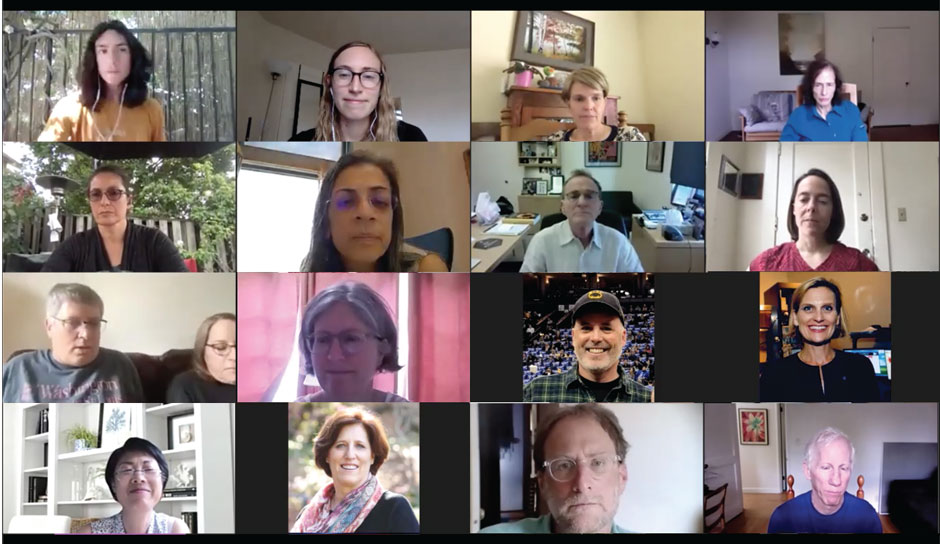 MCB faculty participating in a training organized by the MCB Distance Learning Task Force.
The team analyzed close to 200 survey responses and found that most students felt that online learning was more difficult for them than traditional classes. Many students, living with their families or roommates, did not have a quiet place to study or lacked adequate internet access. Some were experiencing financial hardships or mental health issues related to the pandemic, making online learning difficult, particularly if instructors were not aware of or supportive about these issues.

To address some of the concerns raised in the survey, the task force put together a remote teaching website for instructors with tips, best practices, and peer-reviewed resources, assembled by a subgroup that includes Dernburg, Robin Ball (an award-winning MCB lecturer who teaches a pedagogy course for graduate student instructors), Margaret Jow (lab course support staff), PhD students Sophia Friesen and Danielle Spitzer, postdoc Gabriella Sterne, and undergraduate Emily Bi.

The task force has also held training sessions for graduate student instructors and faculty based on the results of the survey and best practices for online learning. The sessions were led by Arnold with the help of Ball and Moreno. Around 30 MCB faculty members attended the faculty training, and Arnold says she was excited that there was so much active discussion afterwards about how to incorporate the practices into their own teaching.

While other trainings in the department focus on pedagogy in general or how to use technology for online teaching, the task force specifically focuses on addressing MCB students' remote learning needs through evidence-based solutions from the education literature. These strategies include instructors checking in with students frequently — for instance, at the end of each class — to get feedback about the course and any personal struggles students may be experiencing. Arnold says that because remote learning "has the potential to really obfuscate the educational process," it is also important for instructors to make their expectations very clear. That way, students "are not taking on the cognitive load of figuring out — what am I supposed to do for this assignment? They can just use their brain to do the assignment."

Arnold says that one of the strengths of the task force is that it brings together many members of the MCB community with different perspectives on teaching and learning — from undergraduates to teaching experts like Ball and Beatty. Also, she says that having lab course staff like Jow on the task force has been critical to make sure that the unique challenge of teaching labs online is adequately addressed.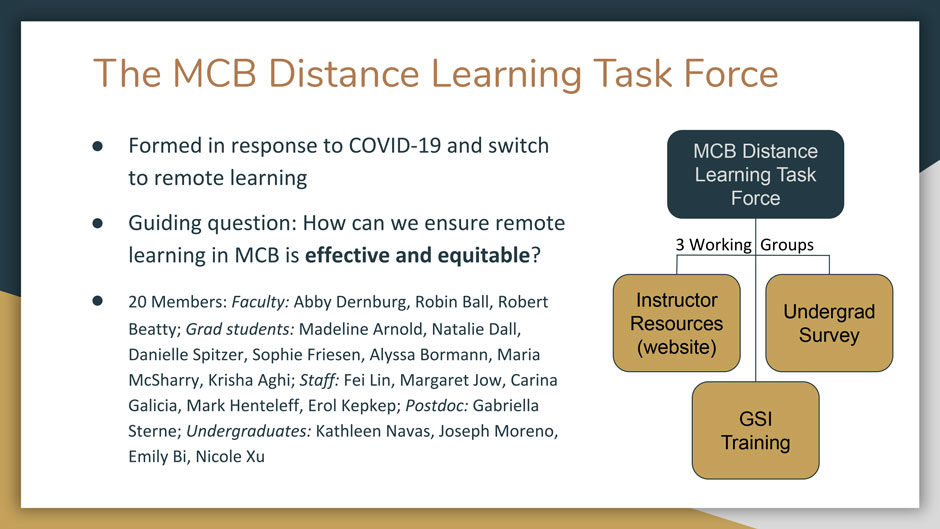 Despite the challenges, there have also been some benefits to remote learning. Some lab instructors are using it as an opportunity to include more bioinformatics and "big data" experiments in their courses — approaches that are increasingly important in biology. Also, 20% of the students surveyed said that remote instruction actually worked better for them, largely because they could watch recorded lectures at their own pace and on their own schedule. Arnold hopes that once in-person classes return, instructors will apply what they have learned to improve their teaching in general.

"I think anytime that we can get people to think about pedagogical strategies, it's a win," she says. Arnold is currently talking with departmental leadership about how to continue the work of the Distance Learning Task Force throughout the pandemic and beyond.

Visit the MCB remote teaching website: http://mcb.berkeley.edu/academic-programs/teaching-and-learning/teaching-remotely
Banner image photo credit Peg Skorpinski
Back to Main Fall 2020 Newsletter Page