The Biology Scholars Program and inclusive MCB+ foster inclusive community at Berkeley
By Rachel Henderson
Simply recruiting students from underrepresented (UR) groups does not adequately address the lack of diversity in STEM fields. The educational and research climate needs to make people from all backgrounds and identities feel valued, included, and supported to reduce inequities that can hinder UR students' long-term success in STEM. At Berkeley, two programs — the Biology Scholars Program (BSP) and inclusive MCB+ (iMCB+) — are helping to create that type of climate for MCB students.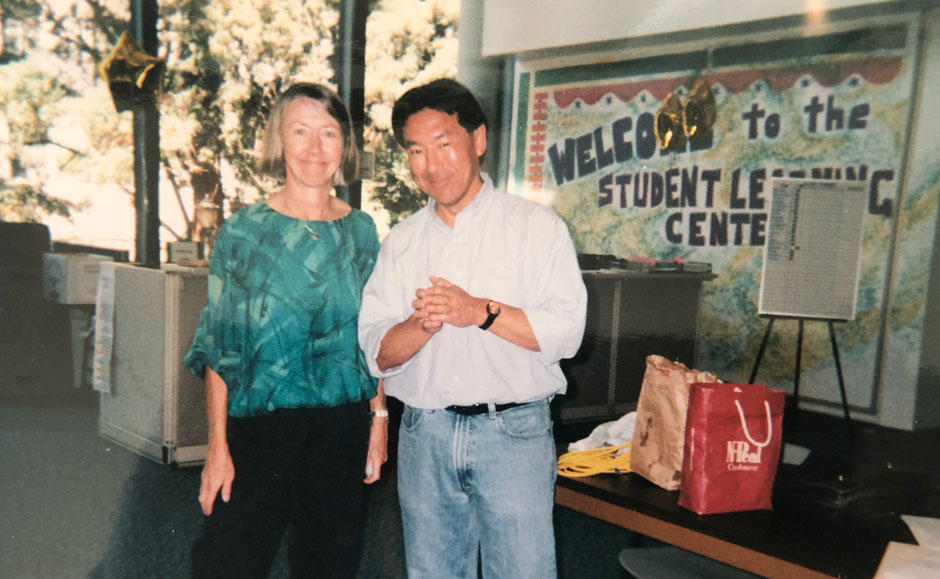 BSP co-founders Caroline Kane and John Matsui
BSP was founded in 1992 by MCB professor emerita Caroline Kane, BSP director and assistant dean John Matsui, and former MCB faculty member and current adjunct professor of neuroscience Corey Goodman. Kane says that a graduate student group, Scientists of Color, came to her with the concern that UR undergraduates were leaving biology majors — or even Cal — because they felt isolated and lacked a sense of belonging. Kane, Matsui, and Goodman launched BSP to address this issue. In the decades since then, BSP has been providing classes, advising, and tutoring to its members (biology students in various majors, including MCB) within the context of a collaborative, supportive student community. Kane says a major strength of BSP is that students study together, give each other advice, "celebrate successes, and help people if they fall down."
BSP has been highly successful in helping UR students not only stay in biology majors at Berkeley, but graduate with higher GPAs than their peers from similar backgrounds. In the last few years, 35% of BSP members graduated with a MCB degree. Over a thousand BSP alumni have gone on to earn graduate and professional degrees, and many are practicing physicians working in underserved communities. Kane says one of the keys to BSP's success is that they really listen to the students. "We don't do things from the top down. We do things from the students up," she says.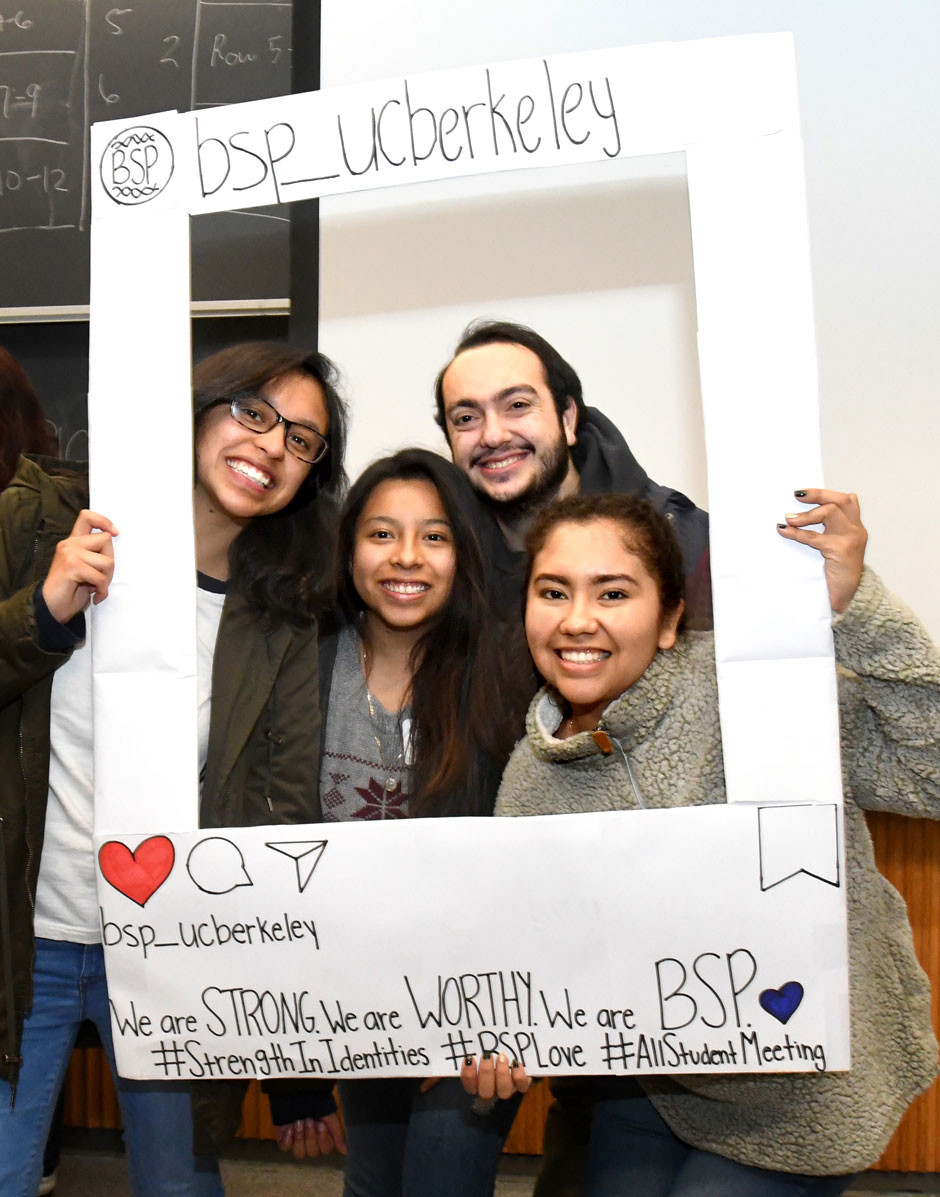 BSP students
iMCB+ also works from the students up. It is a graduate student-led group sponsored by the department to promote a supportive environment that allows all graduate students to thrive and become scientific leaders. iMCB+ was founded in 2017 by alum Lisa Eshun-Wilson (MCB PhD 2019) with the support of faculty and staff. Eshun-Wilson and MCB PhD student Michelle Soto Reid served as the inaugural co-directors. Reid is still a co-director, along with MCB PhD student Kyle Tucker.
Tucker says one of the reasons he was motivated to become a co-director of iMCB+ was that he wanted to help create the kind of diverse, supportive community he experienced as an undergraduate in a research program for UR students. As a Black student at a predominantly White college, Tucker says, "it was the first time that I felt like I was valued, that my identity was a part of science that mattered."
iMCB+ has launched a number of initiatives to create a more equitable and inclusive environment, including an annual conference; a faculty mentoring program for first-year PhD students; and a postdoc teaching program, where postdocs serve as supplemental instructors for graduate students. Tucker says one of the things that makes iMCB+ unique is that "we try to base everything we do on actual academic research" on how to improve diversity, equity, and inclusion (DEI) in STEM.
Second-year MCB PhD student Anthony Rodriguez-Vargas says, "As a first-generation graduate student, there have been many occasions when I have questioned if I was on the right path; impostor syndrome constantly makes my goals seem unrealistic. However, during my first year, I think iMCB+ served as a buffer that prevented these feelings from reaching their peak, numerous times."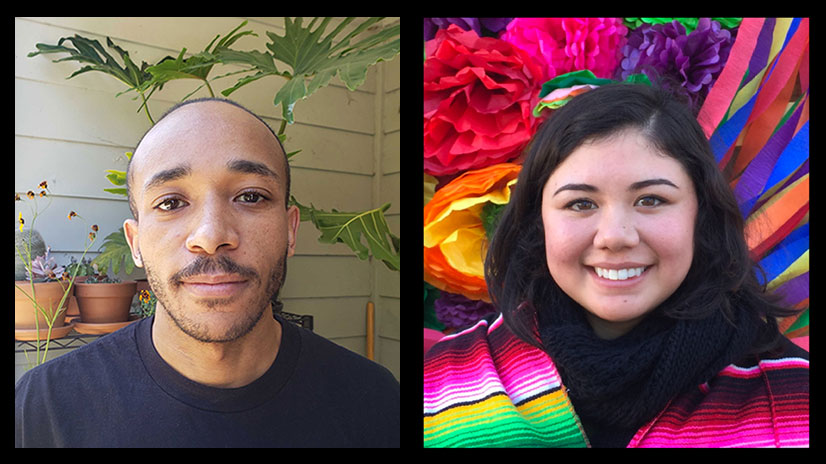 Kyle Tucker and Michelle Reid, iMCB co-directors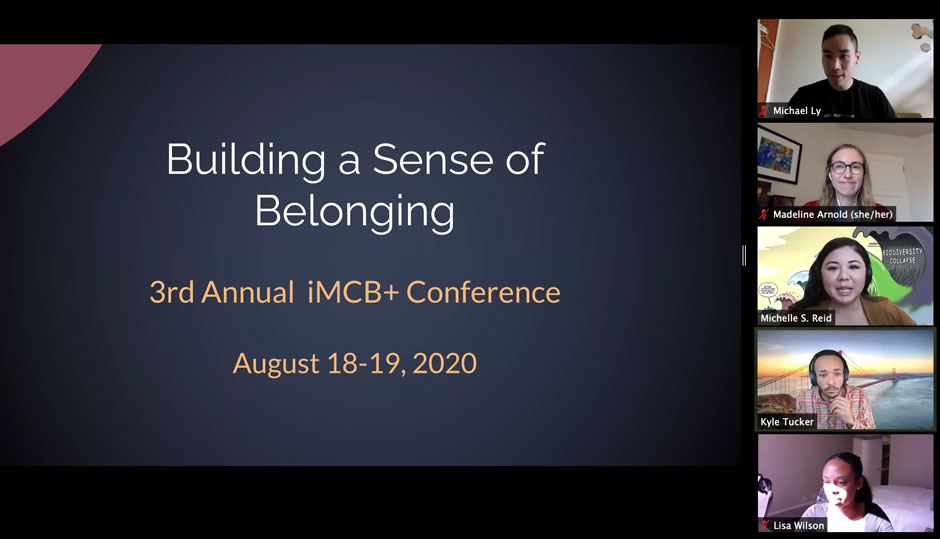 iMCB+ virtual conference 2020
iMCB+ has grown rapidly and has even inspired similar initiatives in other departments, such as inclusiveIB (inclusive integrative biology). Close to 30 faculty members participate in iMCB+'s mentoring program, and Tucker says that interest has skyrocketed recently due to the protests for racial justice and resulting conversations about systemic racism. He hopes this momentum will lead to deeper discussions of DEI issues and implementation of concrete solutions. iMCB+ is currently assembling governing and advisory boards that will involve more faculty and staff.
Given the COVID-19 crisis, both iMCB+ and BSP are currently providing support to students remotely. Undergraduate Alexandra Orellana (intended MCB and public health major) says, "Even though this pandemic has made me feel disconnected to my community in-person, BSP has continued to provide me with a virtual community that supports me through a fully remote semester." The pandemic has also not stopped Kane, who, despite retiring in 2008, still continues to talk with several BSP students and alumni every week.
The two programs are also discussing how they can collaborate with each other. According to Tucker, iMCB+ would like to connect BSP students with mentors and paid research opportunities and incorporate BSP's peer-to-peer mentoring model into their own work with graduate students. BSP and iMCB+ are both seeking additional funding so they can continue their important work at Berkeley — a step towards making STEM more diverse, equitable, and inclusive overall.

Show your support for these pivotal programs today.
Together, we can empower the next generation of STEM professionals and reshape the academic experience for future generations. Join us by supporting BSP.

Contribute to iMCB+'s mission to use evidence-based strategies to improve diversity, equity, and belonging on campus here (make gift in honor of iMCB+).
Back to Main Fall 2020 Newsletter Page