This year the campus held a year-long celebration to commemorate the 150th anniversary of women being admitted to Berkeley and to recognize the countless women who have studied, worked, and researched at Berkeley since then. As the celebration draws to a close, we're taking the opportunity to share the extraordinary accomplishments made by the women faculty in our department this year.
2020 NOBEL PRIZE:

JENNIFER DOUDNA

We are delighted to congratulate our colleague Jennifer Doudna, Howard Hughes Medical Institute Investigator, Li Ka Shing Chancellor's Chair in Biomedical and Health Sciences and MCB Professor of Biochemistry, Biophysics and Structural Biology, and her associate Emmanuelle Charpentier, Director and Scientific Member at the Max Planck Unit for the Science of Pathogens, on their 2020 Nobel Prize in Chemistry "for the development of a method for genome editing."

Please join us in celebrating our colleague and her prestigious award. To learn more:

​This year Doudna also received the 2020 Wolf Prize in Medicine, 2020 Vanderbilt Prize in Biomedical Science, 2020 Guggenheim Fellowship, and a 2021 University of Chicago honorary degree.




Helen Bateup




Gloria Brar




Elçin Ünal

Congratulations to

Helen Bateup

,

Gloria Brar

, and

Elçin Ünal

on their promotions to MCB Associate Professors!

2020 MACARTHUR "GENIUS" AWARD:

POLINA LISHKO

The MacArthur Foundation bestowed Associate Professor Polina Lishko a MacArthur Fellowship for her work examining the cellular processes that guide mammalian fertilization and opening new avenues for contraception and infertility treatment.

More here:

​This year Lishko also received a Global Consortium for Reproductive Longevity and Equality (GCRLE) Pilot Award and was named a Pew Trusts Innovation Fund Investigator.

Lecturer Robin Ball - 2020 Faculty Award for Outstanding Mentorship of GSIs
Associate Professor Helen Bateup – a member of a research team that received an Aligning Science Across Parkinson's (ASAP) Initiative Grant to study Parkinson's disease. Read the story here.
Professor Abby Dernburg

– Miller Professorship Award

Professor Marla Feller – 2020 UC Berkeley Distinguished Teaching Award
Incoming Assistant Professor Yvette Fisher - Next Generation Leaders Council at the Allen Institute for Brain Science
Assistant Professor Andrea Gomez – 2020 Rennie Fund for the Study of Epilepsy Award and 2020 Brain & Behavior Research Foundation Young Investigator Award

2020 NIH DIRECTOR'S PIONEER AWARD:

KATHLEEN COLLINS

Professor Kathleen Collins received this honor for her project, "Human Genetic Supplementation Without Donor DNA or a DNA Break." The award challenges investigators at all career levels to pursue new research directions and develop groundbreaking, high-impact approaches to a broad area of biomedical, behavioral, or social science.

Learn more about the award and Collins's project:

​This year Collins was also elected into the American Academy of Arts & Sciences and was reappointed to the Walter and Ruth Schubert Family Endowed Chair.

Professor Emerita Caroline Kane

– 2020 American Society for Cell Biology (ASCB) Fellow

Assistant Professor Samantha Lewis – Shurl & Kay Curci Foundation Faculty Award, 2020 Winkler Scholar, and the National Institute of General Medical Sciences R00 Grant
Professor

Sabeeha Merchant

– Moore Foundation Investigator Award
Professor Alanna Schepartz - 2020 American Chemical Society (ACS) Ralph F. Hirschmann Award in Peptide Chemistry, 2021 American Peptide Society Vincent du Vigneaud Award and the new director for the NSF Center for Genetically Encoded Materials (C-GEM). To learn more about C-GEM, visit their website here.
Associate Professor Elçin Ünal – 2020 Sabri Ülker Science Award




Kunxin Luo




Sarah Stanley

Professors Kunxin Luo and Associate Professor Sarah Stanley - received funding from the Henry Wheeler Center for Emerging and Neglected Diseases (CEND) for their high-risk, original research on the SARS-CoV2/COVID-19 global pandemic.

Luo's research is on high affinity soluble ACE2 decoy receptor approach for COVID-19.
Stanley's work is on a repurposing screen of approved compounds for COVID-19.

2020 PACKARD FELLOWSHIP IN SCIENCE AND ENGINEERING:

DIPTI NAYAK

The David & Lucile Packard Foundation awarded Assistant Professor Dipti Nayak a Packard Fellowship for her research on a group of Archaea called methanogens, which reduce carbon dioxide to methane. Her work at the intersection of physiology and evolution to understand these organisms' fundamental and distinctive biology is key to designing optimized solutions for managing the effects of methane emissions.

The fellowship is designed to allow maximum flexibility in how the funding is used and over time has led to discoveries that improve people's lives and enhance our understanding of the universe.

More here:

The Packard Foundation press release

here

This year Nayak also received an Arnold and Mabel Beckman Foundation Beckman Young Investigator Award and was named a Searle Scholar.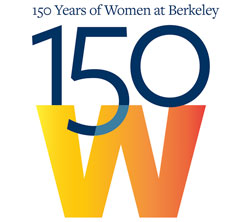 To learn more about UC Berkeley's 150 Years of Women celebration, visit the website.
Banner image credit: Keegan Houser, UC Berkeley
Back to Main Fall 2020 Newsletter Page