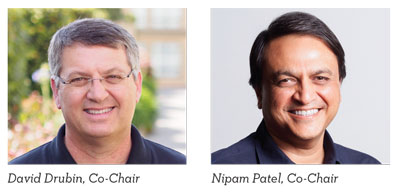 We are honored to begin our term as MCB co-chairs. The strength of this great department is in our amazing faculty colleagues as well as our fantastic students and postdoctoral fellows, and our terrific technical and administrative staff. Realizing MCB's great potential in our research and teaching missions requires that all of the parts work well together. As co-chairs, we will endeavor to facilitate productive interactions within MCB and to build bridges to other departments. Research and teaching are becoming increasingly multidisciplinary, and therefore it is important to look for synergies through new interactions.
The Berkeley campus is unique in its diversity of excellent research, and there are clear advantages to applying new combinations of approaches from the biological, environmental, computational, and physical sciences. While maximizing existing opportunities for interactions will be an important goal, we plan to continue to bring outstanding new faculty and technologies to MCB, as this influx of innovative ideas and experimental approaches is crucial to our continued vitality. We will not succeed in these efforts without the help of all members of the MCB Department. In particular, grassroots efforts to increase interactions through such activities as hosting interdisciplinary symposia, submitting joint research funding proposals, and obtaining new instrumentation are often the most successful ways to foster an interactive environment and to capture new ideas and approaches.
As chairs, we will do all we can to support such efforts.