By Monica Albe & Shana Singh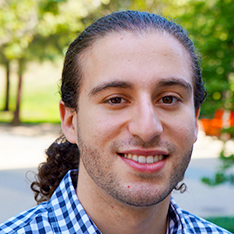 Tariq Haddad
MCB and Bioengineering Junior, 2017
Haddad is a current student in the Berkeley STEM Center for Undergraduate Diversity
Read more at the UCB STEM Center
In the Spring, Tariq Haddad interned in Steven Finkbeiner's lab at the UCSF Gladstone Institute, which focuses on pre-clinical drug development related to ALS, Huntington's Disease and Alzheimer's Disease. Haddad enjoyed his experience, but wanted to get a taste of what product development is like in industry, so this summer he's interning at the L'Oreal Research and Innovation Center in San Francisco, where he's helping with product development and testing.
Quoted from the UCB STEM Center:
Over the past three years, Tariq says one of the most valuable things he learned is the importance of failing. "One thing that's really helped me at Cal is not doing well on exams. Having a difficult time really teaches you to be OK with failure and really focus on what you need to do to get better. That's something that has really changed me and made me not so focused on doing well, but on what I need to do to do well. You just have to make wise decisions, but all your decisions don't have to be the right one."
Well said, Haddad! Failures may not be talked about as much as research successes, but a huge part of being a scientist is failing, learning from it, and keeping at it.
Haddad has also been involved in UC Berkeley's Professional Development Program (PDP) — a program that has benefited Cal students for over 40 years!
Back to 2017 Undergraduate Research Spotlights