By Monica Albe & Shana Singh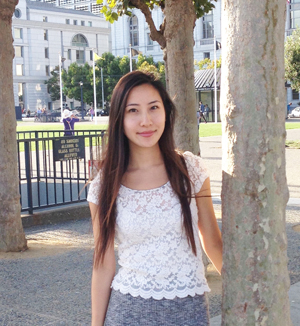 Stacie Ong
Bateup Lab, MCB-NEU Senior, 2017
Senior Honors Thesis: Tsc1 deletion causes cell-type specific morphological changes in striatal medium spiny neurons
Professor Bateup says Stacie Ong "came to Cal as a transfer student from City College of San Francisco and did exceptionally well — she got the highest grade in MCB 160 (Introduction to Neurobiology) as a first semester transfer student."
Ong says, "as a transfer student with no prior research experience, I was excited to get involved in the rich research environment that Berkeley has." In one of her first classes, "Cellular and Molecular Neurobiology," Ong learned about groundbreaking experiments that inspired her to work in an MCB lab. She is particularly interested in neuropsychiatric disorders, such as depression, schizophrenia, Alzheimer's, and autism spectrum disorder.
Ong enjoys the lab -- she says it's "very collaborative" and she enjoys working closely with her graduate student mentor. "This mentorship has really helped me grow as an undergraduate researcher and has enabled me to make meaningful contributions to the lab." She's also gained a better understanding of how science is done. "These experiences have given me perspective on the constant collaboration, debate, creativity, and dedication that is involved in the scientific process."
"My favorite part about working in the lab is being able to learn from other lab members through discussions, lab meetings, and journal clubs. I also enjoy interpreting the data I have collected and thinking about how these data connect to a larger picture."
At the Spring graduation ceremony, Ong was honored with the Jeffery A. Winer Memorial Prize. This award goes to the graduating senior in the Neurobiology emphasis who has demonstrated high academic achievement and excellence of research in an honors project. Ong plans on attending medical school and hopes to continue to participate in research.
Back to 2017 Undergraduate Research Spotlights