By Monica Albe & Shana Singh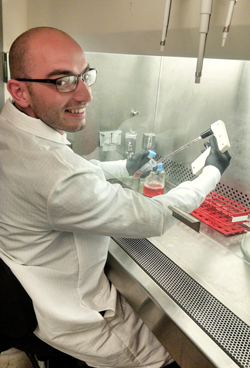 Lucian DiPeso
Vance Lab, MCB-l&P Senior, 2017
Senior Honors Thesis: Characterizing pyroptotic cell death
Professor Vance says, "What's impressive about Lucian is that he comes from a software engineering and web design background, and he was able to take advantage of his computational skills to help us understand basic biological processes in the lab." Vance says that DiPeso has developed live-microscopy methods to monitor the process of pyroptotic cell death in real time.
DiPeso says, "Working at the Vance Lab has been the best part of my undergraduate experience. Prof. Vance is excited about science and about teaching science, and I am hard-pressed to think of a better, friendlier group of people from whom to learn the ins-and-outs of scientific research than the people at the Vance Lab."
At the Spring MCB graduation ceremony, DiPeso was awarded with The Departmental Citation. This award goes to our top student graduating that semester, and represents highest achievement in the MCB major — in terms of overall GPA, major coursework, quality of research, and promise of great success.
DiPeso has been accepted into the Molecular & Cell Biology graduate program at the University of Washington in Seattle, and will be starting this September.

Back to 2017 Undergraduate Research Spotlights