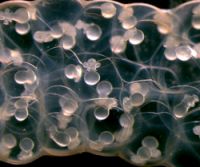 Come to the free Vision + Light show on Oct 28th from 6:15-7pm (2151 Berkeley Way) and be transported to a mesmerizing, microscopic world filled with beauty, mystery and tentacles! MCB Professor Nipam Patel and his collaborators will be on hand to answer questions...
Imaging has always been an important part of research in the life sciences, particularly in the field of developmental biology. Rapid improvements in microscopy have made it possible to examine in ever increasing details the events of embryo development, and watching living embryos has led to many significant advances. Images of embryos are often visually stunning and provide an important opportunity to connect the public to the world of scientific research. Here we illustrate the stunning beauty of embryonic development using the squid, an animal long used by researchers, and become increasingly popular for understanding the evolution of neural complexity. Join in a conversation on the synthesis of science imagery, art and music.
Photo credit: Nipam Patel.