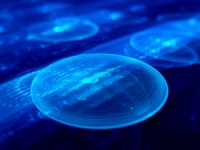 The University of California, Berkeley is officially launching the Alliance for Global Health and Science (the Alliance), thanks to a $1 million gift from Berkeley alumnus and Chairman, President and Chief Executive Officer of Aduro Biotech Stephen T. Isaacs.
Recently, events such as the spread of Zika virus to Latin America and the 2014 Ebola outbreak have highlighted the importance of both scientific and public health research in managing the regional and global impacts of new and re-emerging diseases. However, many parts of the developing world lack the capacity to manage these diseases, resulting in substantial local damage with risk to nearby countries and the rest of the world.
The Alliance—a partnership between UC Berkeley's Biological Sciences Division and the UC Berkeley School of Public Health—seeks to build the scientific and public health research capacity in developing nations to address communicable and non-communicable threats to health within these countries. The Alliance will expand existing public health efforts and create new world-class research collaborations between Berkeley faculty and partners in developing countries. Specifically, this initiative will support people and projects focused on locally-relevant health issues and engage local scientists and public health practitioners at developing country institutions. The hope is that researchers acting locally will foster knowledge and innovation in their home regions and increase their ability to address resident health challenges.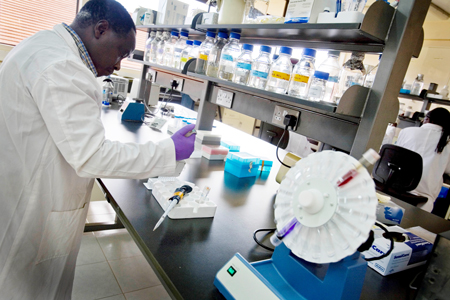 Scientists work in a laboratory at the International Livestock Research Institute
in Nairobi, Kenya. Photo credit: Kate Holt/AusAID 2009.
The program will include in-country training institutes; student, post-doctoral, and faculty fellowships and exchanges; online and distance learning initiatives; a seed grant program to promote collaborations; and early-stage career support for low- to middle-income scientists from developing countries. Isaacs' donation will fund the pilot phase of this program, which will focus on East Africa, and leverage Berkeley's existing relationships with partners such as Makerere University in Uganda and the University of Zimbabwe.
When asked why he chose to spearhead this project, Isaacs said, "Education and public health concerns in developing countries, especially Africa, have always been very important issues to me. I believe the Alliance, coupled with UC Berkeley's expertise and infrastructure, has the potential to make a significant impact on how developing countries address serious health threats. I'm pleased to be a part of the founding of this health alliance and believe its mission is complementary to my own family non-profit, A Better Education (ABE) Club, which is focused on improving education resources and programming in villages in rural Kenya."
The pilot in Africa will be led by Professor Art Reingold, professor in the School of Public Health and world-renowned expert in infectious disease epidemiology. "The UC Berkeley faculty not only have decades of research experience in Africa and other developing countries, but also a long track record of training scientists and public health practitioners from these regions, many of whom have returned home and have become public health and research leaders," says Dr. Reingold. "The Alliance presents a golden opportunity to build on these relationships, unify and expand our current capacity building efforts, and engage additional faculty across UC Berkeley."
Future areas of research may involve cancer, pulmonary disease and air quality, tuberculosis, vector-borne diseases, persistent viral infections and the confluence of infectious and non-communicable diseases, emphasizing molecular biology, molecular and field epidemiology, and the design and development of vaccines, therapeutics, and diagnostics tests. The team has plans to expand in the coming years to other regions including Latin America, China, and South Asia.
"At the School of Public Health, we have faculty experts working in each of these regions, many on long-term projects in collaboration with regional allies," says Stefano Bertozzi, dean of the School of Public Health. "We're looking forward to partnering with the Biological Sciences Division to expand our focus on empowering these communities with training and scientific capacity building in order to solve local health problems."
In keeping with its objectives to foster global ties, the Alliance will be co-located on the Berkeley campus, where it will be administered jointly through the Henry J. Wheeler Center for Emerging and Neglected Diseases and the Center for Global Public Health. It will be partnered with institutions of higher learning in low- and middle-income countries, with collaborating industry sites, and with other leading institutions of higher learning worldwide. It strengthens UC Berkeley's partnership with Aduro, a biotechnology company located in Berkeley, Calif. that focuses on developing novel immunotherapies and vaccines for cancer and infectious diseases.
Says Dean of Biological Sciences Steve Martin, "Science is a cross-disciplinary enterprise. Often we see discovery result from these handshakes across traditional lines of expertise. This Alliance is an example of Berkeley's biology research engine partnering with public health experts, industry, field researchers, and universities overseas to work on problems of human health."