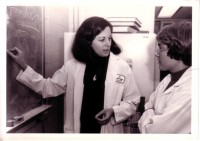 In honor of UC Berkeley's "150 Years of Light" anniversary celebration, we're recognizing MCB & Chemistry Professor Emeritus Judith Klinman, a pioneer on the Berkeley campus. A talented scientist, Klinman is internationally known for her groundbreaking work on enzyme catalysis.
In addition, Klinman was the first female faculty member in the physical sciences at Berkeley. She is also the only woman to have served as Chair of the Department of Chemistry. Among her many other accolades, Klinman was awarded the National Medal of Science by President Barack Obama in 2012 for her contributions to the field of biochemistry.
Judith Klinman is a pioneer both on and off the Berkeley campus, and has helped carve a path for many future female scientists to follow.