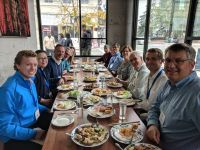 By Krystin Ventura
On September 28, the MCB community hosted representatives from nine major Bay Area biotechnology companies for the second annual Fall 2018 Industrial Affiliates Program (IAP) Symposium. The event was a great success, drawing approximately 100 students and postdoctoral scholars from several departments on campus including MCB, Bioengineering, Biostatistics, Biophysics, and Chemistry.
To many, the IAP Symposium represents a symbiosis between industry leaders and institutions that foster young scientific talent. Representatives from IAP partner companies Amgen, Driver, NGM Bio, Nurix, Roche, and Thermo Fisher presented their cutting-edge research and the company values that drive innovation forward to many interested students and postdocs.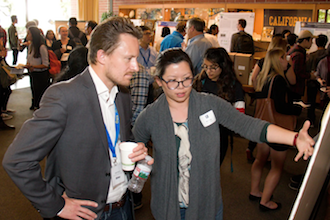 "The symposium is a great opportunity to connect students and postdocs with industry leading partners that are located in the Bay Area. Students are exposed to potential career opportunities outside of academia, while the industry affiliates are able to connect with the next generation of scientific minds," said John Davis, Clinical Lab General Supervisor at Driver. "Coming from a company that is actively growing and building out a laboratory team, I found the event incredibly helpful for networking with students as well as other industry affiliates."
MCB Professor Robert Tjian, a biotechnology industry veteran of over 40 years, agrees. He welcomed all to the event with a statement stressing the value of strong connections between the industry and academic research.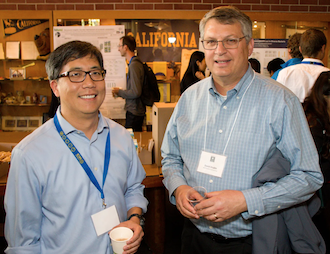 "This critical cross-pollination of people [between UC and the industry] is the foundation of the biotech enterprise," Tjian stated. "It is actually pretty simple: as long as a place like Cal can produce the kinds of innovation, original thinkers, and inspired risk-taking workforce that we have for the past 40 years, biopharma in the Bay Area and beyond will continue to thrive."
For students and postdocs, the event was a chance to make meaningful connections with industry professionals and share the products of their diligence and dedication in the lab. During an interactive poster session, 16 young MCB researchers were able to discuss their own scientific investigations with both their peers and industry professionals.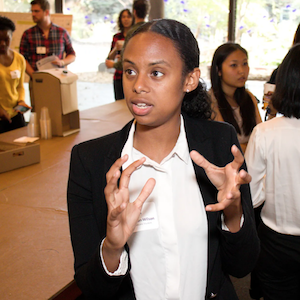 "The highlights of the Symposium were meeting with students and postdocs during the poster session, answering their questions and feeling their excitement – and perhaps some trepidation – as they plan their next steps after UC Berkeley," said Daniel Lin, a Principal Scientist at Amgen and UC Berkeley alumnus.
"IAP was an incredible experience that allowed me to network with leaders in industry," said MCB graduate student Lisa Eshun-Wilson. "I had an amazing conversation with Justin Farlow, CTO and Co-founder of Serotiny, which left me feeling more empowered and excited about a career in science than ever!"
MCB would like to extend a great thanks to all who attended the event, including industry affiliates, students, postdocs, and faculty. We are excited to see how UC Berkeley scholars will continue to drive innovation forward in the biotechnology industry.