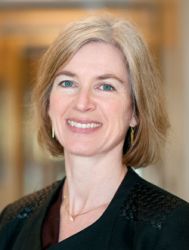 Professor Jennifer Doudna will be given a Luminary Award at the Precision Medicine World Conference on January 23rd-25th, 2017. Doudna will also be one of the key speakers at the conference -- read a recent PMWC Q&A with Professor Doudna.
The Precision Medicine World Conference (PMWC), formerly known as the Personalized Medicine World Conference, is an independent and established conference that attracts recognized authorities and experts across healthcare and biotechnology sectors. The Conference – an outstanding forum to touch upon the different directions and aspects of precision medicine attended by all the multi-disciplinary stakeholders – showcases practical content that helps close the knowledge gap by different sectors, thereby catalyzing cross-functional collaboration to further adoption of personalized medicine in the clinic.
Are you interested in attending the conference? PMWC has created a discount code for UC Berkeley attendees -- It is "berkeley_discount_pmwc2017" (expires on January 11, 2017). Or register here and have the code applied automatically. 
Photo credit: Keegan Houser.