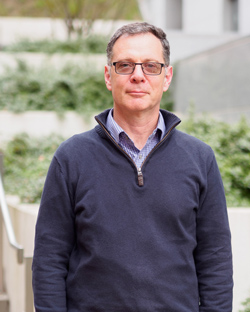 Congratulations to MCB Professor James Hurley for being presented with a Method to Extend Research in Time (MERIT) Award from the National Institute of Allergy and Infectious Diseases (NIAID)!
This honor is in recognition of his work on the mechanism of HIV release from cells by ESCRT complexes. The award (R37) recognizes the most outstanding R01 applications from scientists with stellar research records. These researchers have demonstrated superior competence and phenomenal productivity. Investigators are provided with long-term, stable support to encourage their continued creativity and give them some relief from the administrative tasks associated with the routine preparation and submission of grant applications.
MERIT awardees cannot apply for the grant but are instead nominated by the funding institute and then endorsed by its advisory council. Each year the NIAID issues about 15 new MERIT awards.
For more information about the MERIT Award visit: https://www.niaid.nih.gov/research/merit-awards-extensions