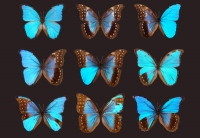 Professor of Genetics, Genomics and Development Nipam Patel will be presenting a free public lecture, "The Physics and Development of Beauty: Structural Colors in Butterflies," on Homecoming. All are welcome! Saturday, October 3rd, 1:30 p.m. to 2:30 p.m. in the Alumni House on the Berkeley campus.
The colorful patterns of butterflies and moths serve such diverse functions as camouflage, warning coloration, and mimicry. These patterns are the result of the coloration of scales on the wings, and usually emanate from pigment molecules within the scales. Colors like blue and green, however, are often created by nanostructures of the scales that refract light to create color. Learn about emerging research that is revealing how these nanostructures are formed during the development of butterfly wings.
Nipam Patel Professor of Genetics, Genomics and Development, Molecular and Cell Biology and Integrative Biology; William V. Power Endowed Chair in Biology. Patel grew up in the West Texas town of El Paso and earned a Ph.D. in biology from Stanford University. Before coming to Berkeley, he was a staff associate in the Department of Embryology at the Carnegie Institution and a professor at the University of Chicago. He is coauthor of an undergraduate textbook on evolution and has taught the summertime embryology course at the Marine Biological Lab at Woods Hole for the past 15 years.