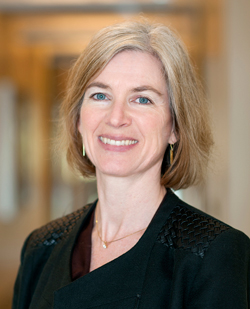 Congratulations to MCB Professor of Biochemistry, Biophysics and Structural Biology Jennifer Doudna on receiving the 2019 California Life Sciences Association's (CLSA) Life Sciences Leadership Award!
The annual Pantheon DiNATM Awards ceremony honors California's most innovative and dedicated life sciences leaders for their ongoing contributions to California's life sciences sector. The Life Sciences Leadership Award recognizes key individuals who work relentlessly to drive innovation and collaboration.
Doudna will be presented with her award at the CLSA Pantheon Award event on November 15 in San Francisco, CA.
For more information about CLSA's Pantheon DiNATM Program and Doudna's award, click here.