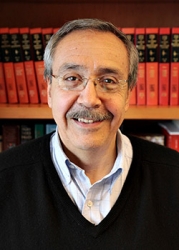 Howard Hughes Investigator and Raymond and Beverly Sackler Chair and Professor of Biochemistry, Biophysics and Structural Biology Carlos Bustamante has been elected to the American Academy of Arts and Sciences along with five other UC Berkeley faculty.
Read the UC Berkeley News Story.
Or read the official press release for announcement.
Carlos is within the "Interclass" group. (PDF)
Photo credit: Carlos Bustamante Lab.