This summer the Molecular and Cell Biology (MCB) Department celebrated its eighth year participating in UC Berkeley's partnership with the National Institute of Health (NIH) Bridges to Baccalaureate (B2B) Program. MCB is one of eight participating departments on campus. The B2B Program is a summer research opportunity that gives ambitious transfer students from local community colleges the opportunity to train in academic research settings and conduct research in UC Berkeley labs as B2B Fellows.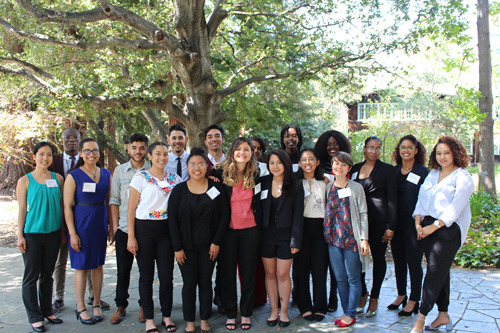 2019 Cohort of B2B Fellows. Photo credit: Johnny Leon
The goal of the B2B Program is to increase diversity in the biomedical research workforce by providing educational opportunities that promote equity and inclusion. As part of the Berkeley program, students are exposed to biomedical career options through participation in full-time summer lab research with Berkeley faculty. They also receive multi-year advising, including tutoring and academic coaching, from the Transfer Alliance Project.
The MCB community is highly involved with the program. From PIs who host and advise B2B Fellows in their labs, MCB graduate students Christopher Duncan-Lewis, Robyn Jong and Erika López-Alfonzo who serve as NIH B2B Summer Research Coordinators, to postdoc and graduate student mentors who guide the students daily. Of the participating labs this year, over half were MCB or joint-MCB labs. MCB Professor of Cell and Developmental Biology and UC Berkeley B2B Program Principal Investigator Gary Firestone believes the program is a win-win opportunity for both the B2B Fellows and the department. The students gain invaluable experience as a member of a research lab and MCB "appreciate[s] what [the B2B Fellows bring] to the table, in [their] interactions with others in the lab, [their] interesting and diverse insights to the research, and [their] excellent contributions to the various projects."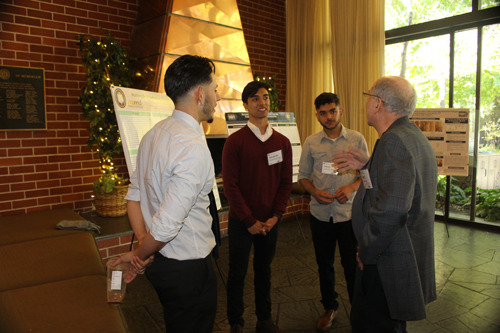 Gary Firestone, B2B Program Principal Investigator, talks with B2B Fellows at the Cris Alvaro Memorial Summer Research Poster Session Program. Photo Credit: Bryan Martinez
On July 31st the 2019 B2B Fellows presented the results of their summer research at the Cris Alvaro Memorial Summer Research Poster Session Program. The transformative positive experience of this program was evident as participants proudly and confidently discussed their research with the poster session attendees. "I believe representation is extremely crucial, ... [my mentor] and I are Latinos, [and] I thought I was extremely lucky to have someone that looks like me show me a path [to] higher education. After this program, I can now see myself in graduate school doing research and mentoring other students that are in my same position.", said Jesus Gonzalez Camba, a transfer student from Chabot College who spent the summer in the lab of Sarah Stanley, a School of Public Health and MCB Associate Professor. Gonzalez Camba worked on identifying genetic mutants of Mycobacterium abscessus, a non-tuberculosis mycobacterium (NTM) responsible for a variety of pulmonary and skin infections.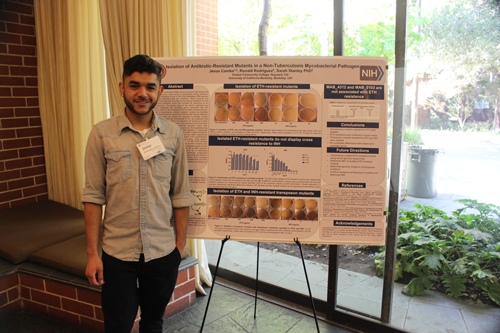 Jesus Gonzalez Camba, B2B Fellow in Sarah Stanley's lab, presents his summer research on genetic mutants of Mycobacterium abscessus. Photo credit: Bryan Martinez
These infections are hard to treat due to the high level of intrinsic resistance of the bacterium to antibiotics. By exploring the genetic basis of this intrinsic resistance and identifying genes associated with the resistance, novel therapies may be easier to develop. He hopes to transfer to either UC Berkeley or SF State to study Molecular Cell Biology or Microbiology in the Fall of 2020, with the eventual goal of attending medical school.
The B2B Program is geared toward students who have a passion for science but haven't had opportunities to become involved beyond traditional coursework. Students with little or no research experience are encouraged to apply. Increasing the ways we perceive and solve problems by ensuring STEM fields are accessible to all that are interested will improve the likelihood we don't miss a critical perspective or novel solution to an ongoing problem.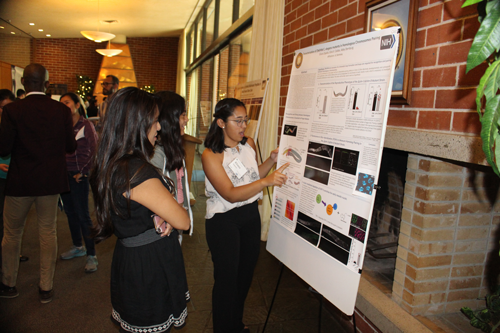 B2B Fellow Eliana Zapata discusses her research findings from her project in Abby Dernburg's lab on the characterization of ZIM/HIM C. elegans mutants in homologous chromosomes pairing. Photo Credit: Bryan Martinez
Between 2012–18, 105 students conducted summer research at UC Berkeley as B2B Fellows with approximately 90% successfully transferring to a four-year California university. Of those, about one-third of all B2B students have matriculated to Cal, which is more than any other single university. By providing historically underrepresented groups access to the experience and skills needed to excel in biomedical fields, programs like the NIH B2B are helping ensure the future is looking bright.
Read all the abstracts from this summer's NIH B2B Research Poster Session Program here.