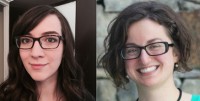 By Krystin Ventura 2017
MCB graduate student Nicole Haloupek, and MCB alumna Jeannette Tenthorey, are co-lead authors on a groundbreaking new study published in Science last week. The new research sheds light on the mechanism in which the immune system detects and attacks invading bacteria, and builds upon our fundamental understanding of how the immune system functions. Other authors on the paper were José Ramón López-Blanco, Patricia Grob, Elise Adamson, Ella Hartenian, Nicholas A. Lind, Natasha M. Bourgeois, Pablo Chacón, and MCB Professors Eva Nogales and Russell Vance.
Haloupek, a current Ph.D. student in the Eva Nogales lab, and Tenthorey, formerly in the Russell Vance lab, used cryo-electron microscopy to find that NAIP5 and NLRC4, proteins of the innate immune system, form an "inflammasome" by identifying and latching onto a protein called flagellin that forms the whip-like flagella of bacteria. The high rate of mutation in bacterial reproduction poses as an unavoidable challenge to the immune system, but it comes with a fitness cost for the bacteria.
"If you make changes to flagellin that allow it to sneak past NAIP5, the flagella composed of those mutant flagellin molecules don't work well," says Haloupek. "So there's a major cost to the bacteria if they have mutations that let their flagellin avoid activating the NAIP5-NLRC4 inflammasome."
The study only adds to the impressive résumés of both Haloupek and Tenthorey.
This publication will be the first lead authorship for Haloupek, who will graduate with her Ph.D. from MCB this December. In addition to her scientific research, she is a prolific science writer, with over 50 non-academic papers published in the past two years. She also serves as an editor of the Berkeley Science Review and Editor-in-Chief of its blog.
Tenthorey, now a postdoctoral researcher in Harmit Malik's lab at the University of Washington Fred Hutchinson Cancer Research Center, published another article on inflammasomes as first author in 2014. She has also earned a Young Investigator's Award from the American Institution of Immunologists at the Midwinter Conference of Immunologists, as well as a Berkeley Outstanding Graduate Student Instructor award for exemplary teaching.
This study is a product of several researchers in the MCB department, including undergraduates, as well as at the Lawrence Berkeley National Laboratory, and emphasizes the importance of the collaborative spirit among researchers and labs. Speaking of the team, Tenthorey says, "I suspect that the driving force for all that enthusiasm was the fact that the results we were getting were so exciting; certainly that was true for me!"
When asked about their experiences as graduate students at UC Berkeley, both touched on the benefit of a connected and vibrant scientific community. In fact, it's a significant reason why Tenthorey chose to attend UC Berkeley for her graduate degree.
"I was interested in a well-rounded, multi-disciplinary research education that would feature collaboration. I'm pleased to say that this research represents exactly that: some structural biology, some microbiology, some immunology, and a whole lot of joint effort," Tenthorey says.
In the future, Haloupek is excited to see even more collaboration on this research. "Of course I think what we found is interesting and important, but it fits into a larger body of knowledge about inflammasomes and the immune system in general. It will be great to see how others build on what we've done."
Photo: Nicole Haloupek (left) and Jeannette Tenthorey (right).