It's week three of our NSF REU profile series! Today you'll meet an REU Scholar who's busy with research in the Titov lab but is also finding time for a side project—determining for himself if the West Coast is truly the best coast. You'll also meet one of the REU staff working behind the scenes to make sure the future of academia is more diverse and inclusive.
Meet Lance Li and Valerie Vargas-Zapata.
LANCE LI




REU SCHOLAR
Titov Lab
Rising Junior | Georgetown University
Why did you decide to participate in the program this summer? What are you hoping to gain from the experience?
I was fascinated by the immersive research opportunity at Cal and I am hoping to gain greater understanding on metabolism research. It is simply such a fascinating topic!
What's been a highlight of the program or lab experience so far? Are there any challenges you've had to overcome?
I have had many philosophical debates on ethics, morality, and existential questions with my peer on a daily basis. It has reshaped my perception and personal goals on the social responsibility as a researcher.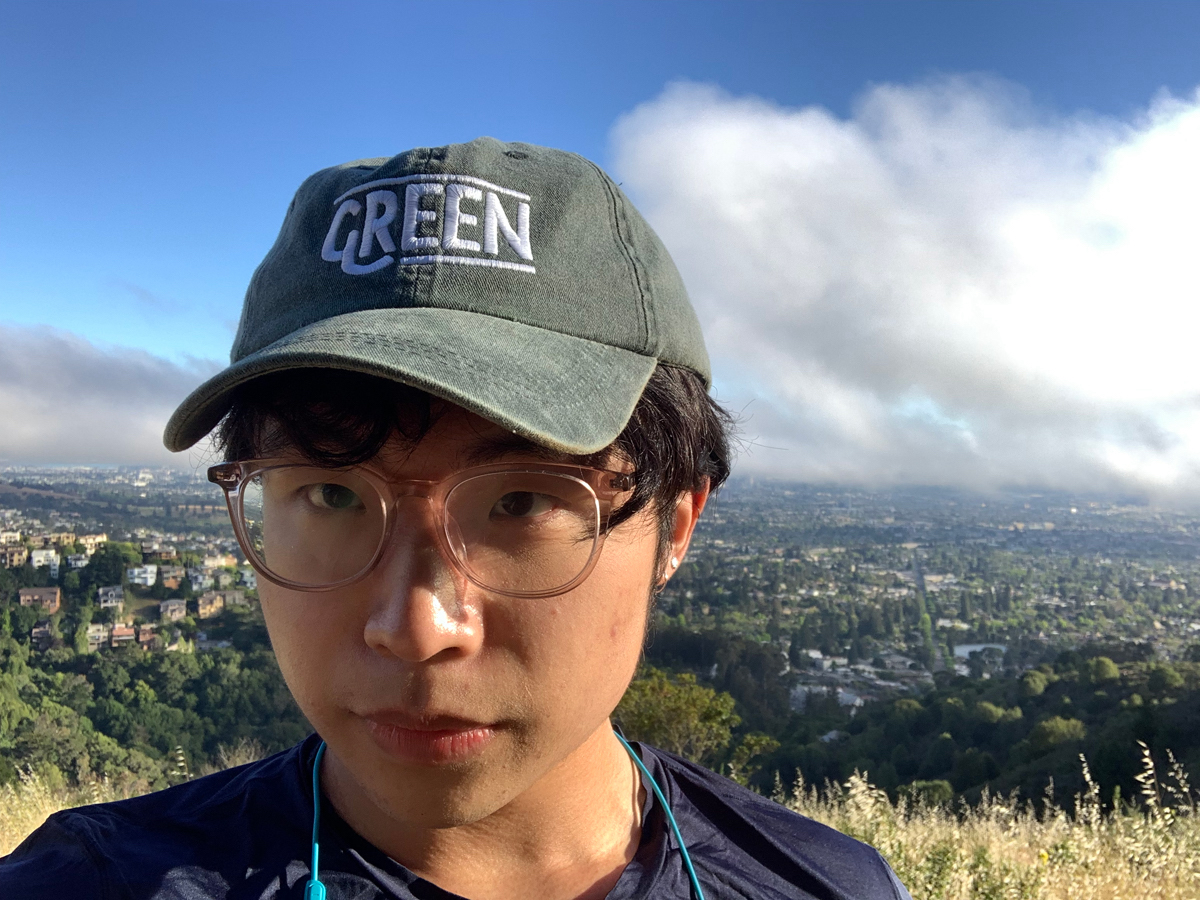 The Berkeley Biology REU program's pace is rigorous and gives scholars a taste of being a PhD student. Textbook procedures come to life in the lab, and every day, there is something new to learn. Lance says he's using this summer as an opportunity to train for "the marathon in academia." To clear his mind and practice his "work-life balance," he runs a few miles every day or hikes with friends on the fire trails near campus. Photo courtesy Lance Li.
What is your research project this summer?
Characterizing PFKFB kinase domain regulation to gain a greater understanding of the cellular conditions that promote F-2,6-BP synthesis for the purposes of enhancing glycolysis.
What are you looking forward to doing/exploring in Berkeley/the Bay Area this summer and why?
I have spent most of my life in major metropolitan areas in the east coast and I would love to verify myself whether west coast is truly the best coast!
Is there anything else you would like to share about your experience in the program?
I absolutely love how passionate and motivated everyone that I have meet are about their work. Passion is such a charismatic trait!

VALERIE VARGAS-ZAPATA




REU GRADUATE ASSISTANT
Graduate Student | Coscoy Lab
What motivated you to participate in the REU program? What does your job entail?
I am working with the REU as a Graduate Assistant (GA). There are two GAs in the program and our job is to serve as a mentor outside the lab for our students. We host research discussions with the REU cohort where we talk about topics related to doing research as an undergraduate, graduate school applications, life as a graduate student, etc. As GAs, we also meet one-on-one with students to give them individualized advice and support and to help them work on their abstracts and presentations. What motivated me to participate in the REU is my passion for undergraduate mentoring and justice, equity, diversity and inclusion work. It was through programs like the REU that I was able to do research in different institutions and get the support I needed to apply to graduate school. I wouldn't be PhD student on campus if it wasn't for my experience as a Berkeley Amgen Scholar, a program like the REU. For students coming from underrepresented backgrounds, like myself, it can be difficult to know what the expectations are when doing research and the process of pursing graduate education can seem intimidating. This might be particularly true if you're the first scientist in your family or the first one to go to college. Programs like the REU help demystify research and graduate education. I want to contribute to this mission of making science more accessible and to make the academia more diverse and inclusive through my work as a GA.
What are some highlights of your experience working with the REU program?
Every student is different, and they bring their unique set of experiences and perspectives to the table. Getting to know them and them to know me is always a rewarding experience. It makes me happy to know that I am playing a role in their growth as researchers and students.
What have you learned from working with REU students (personally or professionally)?
I have learned to not make assumptions about what students know or don't know about research and graduate education. I have mentored students that have a pretty good idea of what being a graduate student is like and I have had students that know very little about being a researcher. Both types of students, and everyone in between, have potential and can grow professionally. I have learned that when it comes to mentoring there's no one size fits all. Students have different starting points based on their unique experiences. You have to meet students where they are and work together to move forward.
What's one piece of advice you would give REU students or those wanting to pursue a career in research?
My advice to the REU students is to take advantage of all the resources that are available to them. That includes people. People in your lab, the GAs, faculty, staff, and other students in your cohort. These are all potential sources of mentoring, and you should start building connections early on. I would also advice to be engaged-participate in meetings, ask questions! A more general piece of advice for those who are considering a career in research is to look for opportunities to do research full time. This can in the form of a summer experience or working as a researcher after graduating college. The point is to experience what is like to come to lab every day and do experiments from start to finish. This experience will help you decide if you see yourself doing research full time for the next 5-6 years. During the academic year when you're trying to balance your time with classes and other commitments, it is hard to get the full picture of what is like to do research full time.
MORE INFORMATION:
​Learn more about the NSF REU @Berkeley program: mcb.berkeley.edu/nsfreu/
Read MCB's Fall 2018 newsletter article about the program:
Promoting Diversity in the Biosciences: MCB Partners with NSF REU Program
Visit the Titov and Coscoy lab websites to learn more about their research programs:
​Banner image photo courtesy of Elena Mozhvilo via Unsplash.