The REU program is in full swing and we're excited to share two more program participants today. We started this series with Megan Kober, a Ph.D. student in the Titov lab, and Fernando Bolio, an REU scholar in the Feldman lab. This week, we're featuring more members of the Feldman lab.
Meet Hannah Monday and Daniel Feldman.
HANNAH MONDAY




REU MENTOR
Postdoc | Feldman Lab
What motivated you to participate in the REU program?
I like to help students get experience in research since I was fortunate enough to have that opportunity.
What are some of the highlights of your experience mentoring REU students so far?
I most enjoyed getting to know my student.
What have you learned from working with REU students (personally or professionally)?
I have learned that today's undergraduates are SO advanced. I am very impressed by my student's background knowledge and scientific maturity.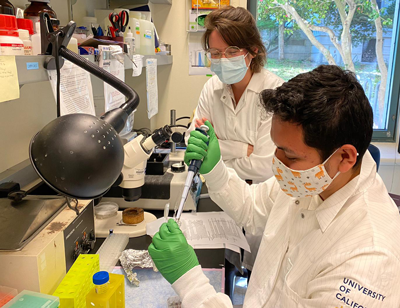 Hannah and her mentee, Fernando Bolio, performing their first experiment in the lab. Photo courtesy Hannah Monday.
What was the most impactful mentoring experience you had and how has it influenced your own mentoring style?
My most impactful mentoring experience was the training I received from my Ph.D. mentor. Amongst many scientific things, he also showed me the importance of taking time to get to know the people you will be working closely with. This gives you an important perspective on their point of view and where they are coming from and allows you to tailor your mentoring style to their individual needs.
DANIEL FELDMAN




FACULTY PI
Professor of Neurobiology
What motivated you to participate in the REU program?
I want to provide learning opportunities for talented students who are excited about science.
What do you enjoy about having REU students in your lab?
While my lab has hosted summer students from other programs, this is our first summer hosting an REU student. It's been great to have someone with a fresh perspective who is eager to do hands-on experimental work.
What do you hope the REU students gain from their experience in your lab?
That the combination of careful thought and training, creative thinking, and roll-up-your-sleeves determination is what pushes science forward.
What's one piece of advice you hope to pass on to REU students or those wanting to pursue a career in research?
Go for it! Science benefits from people with a broad array of perspectives, interests, and talents. You can make a real difference in making discoveries and moving knowledge forward. Science is also a great career that gives you a lot of independence to pursue ideas that you find exciting.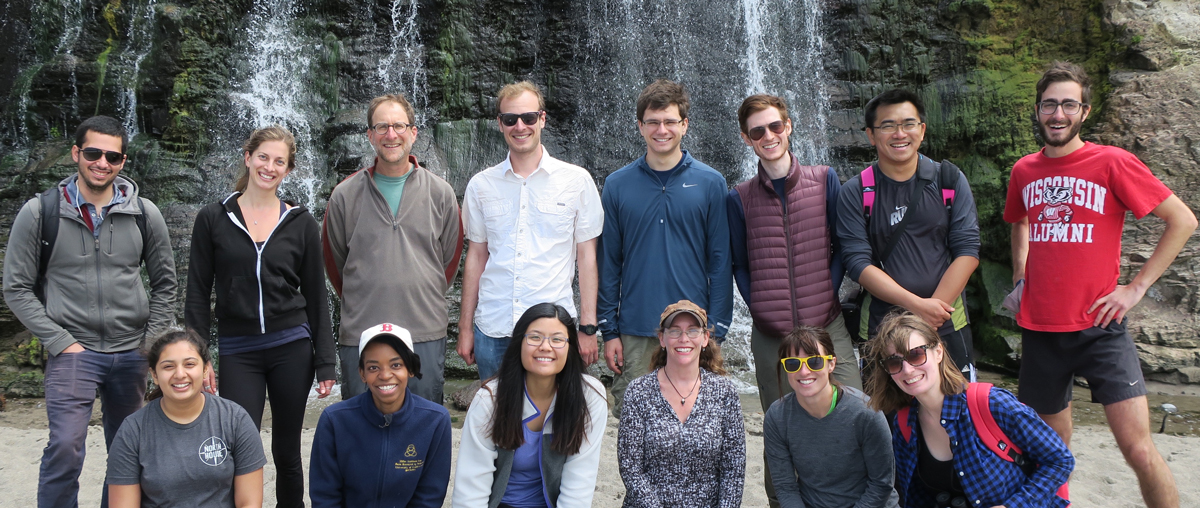 Members of the Feldman lab on a hike to Alamere Falls at the Point Reyes National Seashore. Photo courtesy Daniel Feldman.
MORE INFORMATION:
​Learn more about the NSF REU @Berkeley program: mcb.berkeley.edu/nsfreu/
Read MCB's Fall 2018 newsletter article about the program: mcb.berkeley.edu/news-and-events/transcript/fall-2018-nsf-reu-program
Visit the Feldman lab website to learn more about his research program:
​Banner image photo courtesy of National Cancer Institute via Unsplash.