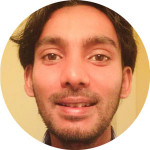 Q. Where are you originally from?
A. Nepal
Q. Where did you receive your PhD and what was your primary research focus?
A. University of Oldenburg, Germany. I studied gap junction circuitry of amacrine cells in the mouse retina.
Q. When not in the lab, you can be found...
A. Home
Q. What are you looking forward to exploring/doing in Berkeley and/or the Bay Area post-pandemic & why?
A. I am happy doing research.
Q. Anything else you'd like to share about yourself?
A. Apart from science, I am also interested in social welfare activities.