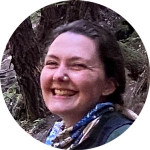 Division:
Cell and Developmental Biology
Q. Where are you originally from?
A. Oregon
Q. Where did you receive your PhD and what was your primary research focus?
A. Cornell, Michelle Wang Lab, single molecule optical trapping studies of chromatin
Q. When not in the lab, you can be found...
A. At lake Merritt Ceramics Studio (but mostly at home, due to pandemic)
Q. What are you looking forward to exploring/doing in Berkeley and/or the Bay Area post-pandemic & why?
A. (maskless) trail running!