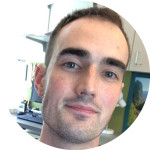 Q. Where are you originally from?
A. Richmond, MI
Q. Where did you receive your PhD and what was your primary research focus?
A. Johns Hopkins University, Psychological & Brain Sciences
Q. When not in the lab, you can be found...
A. Trying to get back into running or failing at that and watching reality television.
Q. What are you looking forward to exploring/doing in Berkeley and/or the Bay Area post-pandemic & why?
A. Everything! I didn't have a chance to visit Berkeley or the Bay Area before moving so I'm looking forward to finally get a chance to see what makes it so great.