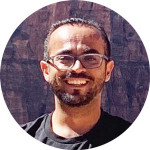 Division:
Biochemistry, Biophysics and Structural Biology
Q. Where are you originally from?
A. India
Q. Where did you receive your PhD and what was your primary research focus?
A. Indiana University, Bloomington IN; Transcription, Epigenetics, RNAi
Q. When not in the lab, you can be found...
A. Hiking, Playing Badminton, Cooking!
Q. What are you looking forward to exploring/doing in Berkeley and/or the Bay Area post-pandemic & why?
A. I can't wait to explore the amazing multi-cultural culinary scene in the Bay Area and taking some time to enjoy the beautiful scenery while hiking in Northern California. (Given that I get better at managing my time both inside and and outside the lab, a typical struggle of being an academic!)