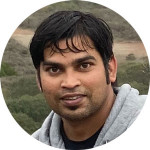 Division:
Genetics, Genomics, and Development
Q. Where are you originally from?
A. I am originally from Nepal
Q. Where did you receive your PhD and what was your primary research focus?
A. I received my PhD in Plant and Microbial Biosciences from Washington University in St. Louis. My research was mostly focused on understanding how anoxygenic phototrophs use electrons from solid electron donors such as iron minerals for photosynthesis.
Q. When not in the lab, you can be found...
A. Walking around Berkeley Hills or at home cooking and watching movies.
Q. What are you looking forward to exploring/doing in Berkeley and/or the Bay Area post-pandemic & why?
A. I like to explore new places and try different foods. I am eagerly looking forward to visit and enjoy scenic places Bay area has to offer.
Q. Anything else you'd like to share about yourself?
A. I love listening to music, fishing, kayaking, hiking and making new friends!