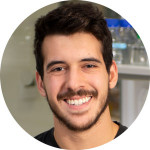 Division:
Biochemistry, Biophysics and Structural Biology
Q. Where are you originally from?
A. Pennsylvania, USA
Q. Where did you receive your PhD and what was your primary research focus?
A. MRC-Laboratory of Molecular Biology, University of Cambridge - Structural studies of ribosomes
Q. When not in the lab, you can be found...
A. At the crag
Q. What are you looking forward to exploring/doing in Berkeley and/or the Bay Area post-pandemic & why?
A. Making friends