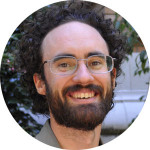 Division:
Genetics, Genomics, and Development
Q. Where are you originally from?
A. New York, USA
Q. Where did you receive your PhD and what was your primary research focus?
A. I did my PhD at the University of Oregon and studied the biophysics of gut microbiomes through live imaging of zebrafish.
Q. When not in the lab, you can be found...
A. Skateboarding around the East Bay
Q. What are you looking forward to exploring/doing in Berkeley and/or the Bay Area post-pandemic & why?
A. Live music! I grew up in New York and took for granted seeing great music all the time. After going to school in smaller places I'm excited to be back in a musical hub.