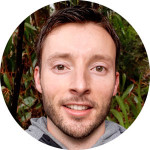 Division:
Genetics, Genomics, and Development
Q. Where are you originally from?
A. I am from Aix-en-Provence in the south of France. Imagine a delicate lavender scent combined with art galleries and restaurants everywhere and you get a good idea of the place.
Q. Where did you receive your PhD and what was your primary research focus?
A. I completed my PhD in Thomas Lecuit 's lab at the IBDM (Aix-Marseille University). I investigated signaling pathways controlling cell shape changes during drosophila embryogenesis.
Q. When not in the lab, you can be found...
A. Definitely hiking in the forests around Berkeley, looking for arthropods and beautiful landscapes to draw, as well as finding peace of mind.
Q. What are you looking forward to exploring/doing in Berkeley and/or the Bay Area post-pandemic & why?
A. I really want to spend more time in San Francisco to meet people there and go to the museum. Also, I will be really interested in joining an hiking group and an art class.
Q. Anything else you'd like to share about yourself?
A. I like to walk alone in the city to randomly speak with people.