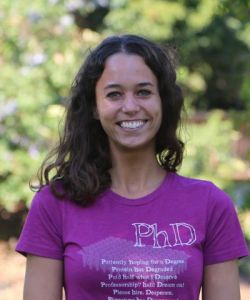 Immunology and Pathogenesis
What sparked your interest in science?
I became interested in academic science by accident. I used to be a pre-veterinary school student during college and worked in a lab doing chores like mouse colony maintenance and dish washing. Over time I began to assist a post-doc with experiments, then started a project of my own. I realized I was less interested in my pre-veterinary coursework, and more interested in learning about the science I was doing. I switched to a Molecular & Cell biology major and never looked back! 
What attracted you to UC Berkeley?
The UC Berkeley science community has a creative and passionate energy that I didn't sense as readily in other graduate school programs. I immediately wanted to be a part of the excitement, both at the bench and among new friends. 
What are you currently working on in the lab?
I'm studying microglia cells during mouse brain development. I'm interested in what they are doing during health and disease via a genetic and environmental approach.
Describe your ultimate dream/goal for your future.
My goal is to simply discover something interesting that the rest of the world doesn't know. I want to continue doing this in a supportive research environment.
When I'm not in the lab, I can be found...
Not in lab? Probably in the mouse house or microscope room....
If you could go back in time and give yourself a piece of advice during your first year in graduate school, what would you say?
I would remind myself, that everyone in grad school comes in with a different set of skills and perspective. It's easy to forget that and feel like an imposter. But, the good news is, most people are eager to share what they know--so remember your strengths and learn from others along the way.