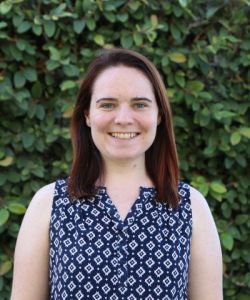 Biochemistry, Biophysics and Structural Biology
What sparked your interest in science?
I don't have a good answer to this question....basically I always have liked science.
What attracted you to UC Berkeley?
The strong student community of MCB sold me on UC Berkeley. In addition, I enjoyed talking to all the faculty I met at interviews. I could tell they all prioritized mentoring and teaching the graduate students. 
What are you currently working on in the lab?
In the Corn Lab, I'm able to combine my interest in the power of CRISPR-Cas9 tools and my interest in ubiquitin regulation of cellular processes.
Describe your ultimate dream/goal for your future.
After graduate school, I want to work in management consulting for a few years to gain business experience. Ultimately I want to work in business development for biotech companies.
When I'm not in the lab, I can be found...
Hiking in Tilden Park!
If you could go back in time and give yourself a piece of advice during your first year in graduate school, what would you say?
Keep your eyes (and ears) open! I hadn't considered the Corn Lab before my first rotation, but eventually I realized the lab could be a great fit for me. And it definitely is!