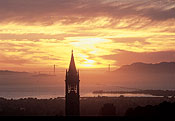 The Berkeley campus is nestled in the hills across the San Francisco Bay from the city of San Francisco. Established in 1868 it has grown into a world-renowned university with 31,000 students, a distinguished faculty, and nearly 300 degree programs. Berkeley today is a large and complex institution offering students a vast range of scholarly endeavor and a wide arena for personal growth.
In the latest study by the National Research Council,48 of Berkeley's graduate programs ranked in the top ten in their fields in terms of faculty distinction and achievement making Berkeley number one in the nation. The faculty are internationally noted for academic excellence and includes 7 Nobel Laureates, 118 members of the National Academy of Science and more NSF Young Investigators than any other university in the country.
By any standard, Berkeley ranks as one of the world's leading intellectual centers, known for the size and quality of its libraries and laboratories, the scope of its research and publications and the distinction of its faculty and students.
The quality of Berkeley's student body complements the stature of its faculty. Nearly every state and 100 foreign countries are represented. The student body can best be characterized by quality and diversity, helping to produce the wide range of opinion and perspective essential to a great university.
The campus provides its own mix of activities from athletics to Early Music, from people-watching on Sproul Plaza to performances by world renowned artists and local music groups. The greater Bay area and surrounds includenot only the rich cultural life of San Francisco but also close proximity to winter sports in the Sierras, wine tasting, National Forests and Parks including Yosemite and Golden Gate and miles of hike and bike trails.
The Department
The Department of Molecular and Cell Biology (MCB) at the University of California at Berkeley offers outstanding opportunities for scientific training in a highly interactive environment that enables doctoral students to pursue any of a wide range of modern fields of biological research. The Department of Molecular and Cell Biology is organized into five Divisions and includes over 90 faculty, 250 graduate students, and more than 250 postdoctoral fellows and researchers.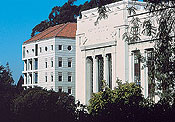 The Divisional organization offers the advantages of mid-sized, thematically focused, scientific groupings within the larger, more diverse academic environment in molecular and cell biology. The common purpose of the Divisions is to foster and maintain a closely knit, stimulating and active community for study. A student entering the Department does not assume a divisional affiliation until the thesis laboratory is chosen in April of the first year. Though Divisional affiliation may affect teaching assignments, and committee membership of exam and dissertation committees all students are considered part of and earn their degree from the Department of Molecular and Cell Biology.
Members of the Neurobiology Division (as well as faculty from the Divisions of Cell & Developmental Biology and Genetics,Genomics& Development) also participate in the campus-wide Neuroscience Graduate Program, which is administered by the Helen Wills Neuroscience Institute and includes faculty from the Departments of Psychology, Integrative Biology, Physics (College of Letters and Science), Vision Science (School of Optometry), Environmental Science, Policy and Management (College of Natural Resources), and Chemical Engineering (College of Chemistry). While the MCB Program welcomes students with interests in all areas of neuroscience, students focused primarily on systems-level and cognitive neuroscience are also encouraged to consider applying to the Neuroscience Graduate Program.
Several faculty in the department also participate in the Designated Emphasis in Computational and Genomic Biology. In response to new interdisciplinary challenges, this group of faculty (approximately 30 from Bioengineering, Biostatistics, Chemistry, Electrical Engineering and Computer Sciences, Lawrence Berkeley National Laboratory, Mathematics, Molecular & Cell Biology, Plant & Microbial Biology, and Statistics) established the Designated Emphasis in Computational and Genomic Biology (DE). The DE, which functions essentially like a "minor", provides specialized multi-disciplinary training and research opportunities in the different facets of computational biology and genomics. PhD students in MCB who wish to follow research careers in genomics or computational biology are encouraged to apply to the DE. For more information about the DE application procedures, course offerings, laboratory rotations, campus wide seminars, interdisciplinary group meetings, and an annual retreat go to the web site above. Funding for Pre and Post doctoral trainees in this area receive support from a training grant provided by the National Institutes of Health.
The Department is part of a much more extensive biological sciences community at Berkeley including not only faculty in chemistry, plant and microbial biology, organismal and evolutionary biology, ecology, biophysics, genomics and more but also includes scientists from the Lawrence Berkeley National Laboratory. This breadth and depth of academic resources make Berkeley uniquely able to provide students with a rich, varied, and flexible academic career suited to meet individual backgrounds, interests, and objectives.
Facilities
The department is housed primarily in six buildings (the new Li Ka Shing Center for Biomedical & Health Sciences, Barker Hall, Donner Laboratory, Koshland Hall, Life Sciences Addition, Hildebrand Hall and Stanley Hall). Li Ka Shing houses faculty focused on neuroscience, cancer research, computational biology, stem cell biology and infectious disease. The Donner and Hildebrand complex houses faculty with primary research interests in structural biology, biophysics, and physical biochemistry, and is situated near faculty in Chemistry, Physics, Computer Science, Engineering, and Mathematics. The Barker/Koshland Hall complex houses faculty interested in gene expression, molecular cell biology, microbiology, virology, and related areas. The Life Sciences Addition houses faculty with primary research interests in cell and developmental biology, neuroscience, immunology, molecular endocrinology, cell physiology and tumor biology.
All buildings also include stockrooms; computer facilities; dark- rooms; electronics, machine, woodworking, and sheet-metal shops; warm and cold rooms; and walk-in freezers. Core facilities available to MCB students include: bioinformatics and computational biology, flow cytometry, high-throughput sequencing, imaging center, mass spectrometry and proteomics, mouse transgenic and gene targeting.