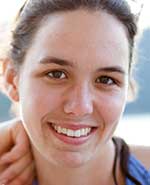 Margaux Bennett
Class of 2008
Cell and Developmental Biology
I chose MCB here at Berkeley because of the people that I get to do science with and learn science from, starting with the graduate students in my own class and up to the visiting scholars.
Having spent my entire life in the Bay Area, I have tried several times to leave for high school, college, and graduate school, but it never happened because it is such a wonderful place to live.  Of all the places I have lived in the Bay Area, I think I love Berkeley the most. First of all, we have the best food that graduate students can afford (very important for those late nights in lab). There is also tons of fun things to do like dancing in SF, plays at the Berkeley Rep, concerts behind your very lab at Greek theater, and you can even hitch a ride up to the Sierras for skiing or camping, or to Napa (only an hour away!) for more wine and food adventures.
The greatest thing about the MCB Department is that you can always find someone to do all of this with. And when I say all of this, I mean both scientific and non-scientific adventures. In my young research career, I have attempted to dabble in as many different fields as possible. I started my research career with screening the yeast deletion collection and then I worked on a myelination defective mutant from a forward genetic screen in zebrafish. Here at Berkeley, I continued my survey of model organisms rotating in Abby Dernburg's lab working on meiosis in planaria, in Richard Harland's lab on neural development in Xenopus, and I chose to stay in Lin He's lab working on the role of microRNAs in lymphomgenesis in mice. Having worked in these labs I have a somewhat unique understanding of how many model organisms can be used to tackle different biological questions.  However, not being well versed in the mouse system, I have learned to seek out both theoretical and technical help from my colleagues throughout the department in order to ask the best questions about my microRNAs.
My initial project in the He lab was studying how overexpression of the microRNA cluster mir-17-92 cluster can accelerate lymphomagenesis in the Em-myc B-lymphoma mouse model.  Unlike most protein coding genes, the mir-17-92 cluster gives rise to six different miRNAs. We found that overexpression of a single miRNA --mir-1--9 is both necessary and sufficient to promote lymphomagenesis, by repressing apoptosis, at least in part by targeting Pten and allowing activation of the Akt-mTOR survival pathway.  While I was doing this work, my friend James Walker in the Harland lab had just finished a story on how mir-24a blocks apoptosis in the developing neural retina.  I thought that mir-19's ability to block apoptosis through its interaction with Pten may be conserved between mouse and frog.  I used some newfound bioinformatic skills to determine that Xenopus Pten did indeed have mir-19 sites, and started a collaboration with James in which we together determined that mir-19's function is evolutionarily conserved.  Without the wonderfully adventurous and collaborative community of Berkeley's MCB Department, we would have not have made such exciting discoveries. This cross-lab collaboration is more common than not.
The MCB Department has been telling exciting stories for years. Though this is not surprising, I just did not know how many amazing scientists were trained at Berkeley until I became a part of MCB. The great thing is that these amazing scientists come back and talk about their science, and their graduate school experience.  We have the most amazing opportunity as graduate students to go to lunches with these visiting scientists, and I take full advantage of them – you should ask me who I have had lunch with, seriously. From one such opportunity I recall that Victor Ambros said, "What I love most about science is that it is such a deeply, intensely human enterprise. The success of the enterprise of science, and of the individual scientist, is derived precisely from the fact that we do it together. Science is among the best things that we do as a species."
I chose MCB here at Berkeley because of the people that I get to do science with and learn science from, starting with the graduate students in my own class and up to the visiting scholars.  I love graduate school here and could go on forever about why Berkeley is an amazing place to be. Hope to see you soon!
Undergraduate University: Stanford