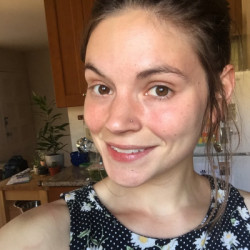 Cell Biology, Development and Physiology
1) What sparked your interest in science?
 
I was always interested in biology as a kid, but I grew up wanting to be an artist. I hated high school, so I fulfilled my last two years of credits at a local community college. Once there, I took a biology course and I fell in love with biology all over again. Community college teachers are amazing.
 
2) What attracted you to UC Berkeley?
 
I felt an immediate connection with many of the current and prospective students. Honestly, I think a big part of that was that I felt like people's senses of humor worked with my own.
 
3) What are you currently working on in the lab?
 
I'm studying the meiotic regulation of a gene that encodes an essential redox protein. During the meiotic divisions, cells produce a massively extended mRNA isoform that acts to decrease the levels of canonical mRNA and protein. Now we're working to figure out the biological significance of this regulation. Easy, right?
 
4) Describe your ultimate dream/goal for your future.
 
I love being at the bench, so in the future, I would like to find a job in which I can continue to do so. I also love the creative freedom of academic science, so it would be nice to maintain that in some way. I'm not set on any specific career path yet, but whatever I end up doing, I'd like to feel like I can spend time with family and pursue my non-scientific interests.
 
5) When I'm not in the lab, I can be found...
 
Drawing, cooking, practicing yoga, running, making electronic music, trying new restaurants and breweries, reading nonfiction, or doing the NYT Crossword with my family over Zoom.
 
6) If you could go back in time and give yourself a piece of advice during your first year in graduate school, what would you say?
 
When you're in it, you may not feel like you're doing a good enough job or that your accomplishments are nothing to celebrate. But at some point, the imposter syndrome fog will lift, you'll look back at what you did, and you'll be able to spot so many moments in which you genuinely make yourself proud.