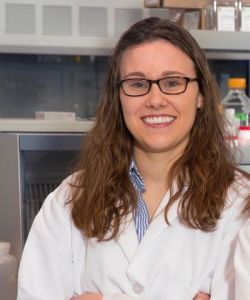 Biochemistry, Biophysics and Structural Biology
What sparked your interest in science?
For as long as I can remember, I have always been intrigued by pharmaceuticals. Growing up, my mom worked as a pharmacist at a small town pharmacy, so I would often tag along with her when she worked weekends. I remember gawking at the shelves of pills that were all different shapes and colors and imagining how each one of them could combat some ailment. Years later, I rekindled this spark through my involvement in high school science fair. As a junior, I was selected to compete in the international science fair. This was my first real exposure to research and I was instantly captivated! As a graduate student at Berkeley, one of my favorite outreach activities is judging local science fairs. It is fun to engage with students and encourage them to continue exploring their scientific curiosities. 
What attracted you to UC Berkeley?
There are many factors that play into selecting a graduate program that is the "right fit". For me, I ultimately chose Berkeley because I felt connected with the graduate students during my visit. The faculty and students in MCB cultivate a vibrant and nurturing community that serves as a solid foundation to support students through the inevitable ups and downs of graduate school. My class, in particular, is very close and one of my favorite memories from first year is gathering together in my backyard on Thanksgiving Day to celebrate "Friendsgiving".  
What are you currently working on in the lab?
In the Zoncu Lab, we are interested in understanding how cells sense nutrients and coordinate signals to promote cellular growth. The lysosome has recently been rediscovered as one of the major command centers for monitoring nutrient status in mammalian cells. The surface of the lysosome acts as a signaling hub to promote activation of proteins such as the protein kinase, mechanistic target of rapamycin (mTOR). In response, mTOR phosphorylates a variety of substrates that promote biosynthesis of proteins, lipids, and nucleic acids in preparation for cell growth and division. My project is focused on identifying new lysosomal transmembrane proteins involved in nutrient sensing and elucidating the molecular mechanisms of signal transduction. 
Describe your ultimate dream/goal for your future.
My dream career path would be to earn my PhD and transition directly into an emeritus professor position. I've been told it's almost as fun as graduate school. 
When I'm not in the lab, I can be found...
When I'm not in the lab, I enjoy being outdoors and exploring the natural beauty of the Bay Area. One of my favorite things about Berkeley is the culinary diversity. I like trying new cuisines and I am often inspired to recreate my favorite dishes at home. On college football Saturdays, you can find me in San Francisco at the Nebraska alumni bar cheering on the cornhuskers! 
If you could go back in time and give yourself a piece of advice during your first year in graduate school, what would you say?
If I could give my first year self advice, I would challenge myself not to bias my rotation choices towards areas of science that are most familiar. One of the incredible opportunities about being a student in MCB is the truly interdisciplinary nature of the department. I think I could have enriched my experience by stretching further out of my comfort zone and immersing myself in a completely unfamiliar area of research.