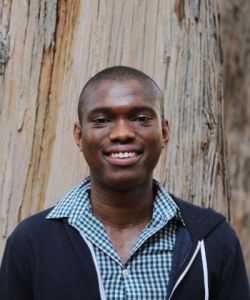 Biochemistry, Biophysics and Structural Biology
What sparked your interest in science?
I was always interested in science growing up, but completing a mouse behavioral project at a local university during my last two years of high school convinced me that I wanted to pursue science as a career.
What attracted you to UC Berkeley?
UC Berkeley MCB initially impressed me with the depth and breadth of high quality science being produced in its numerous labs. During interviews, I also found the MCB community to consist of some of the coolest, happiest, and most down-to-earth graduate students I had ever met. The perfect weather and vibrant LGBT community in the Bay Area were icing on the cake.
What are you currently working on in the lab?
I'm currently working on a couple projects in the Glaunsinger lab, which studies how viruses and cellular stress affect host cellular processes. The project that I'm devoting the most time to is the characterization of an apparent mRNA degradation-transcription feedback loop during early apoptosis.
Describe your ultimate dream/goal for your future.
My ultimate goal is to run a lab studying mRNA decay at a large research institution.
When I'm not in the lab, I can be found...
At a bar or in spin class.
If you could go back in time and give yourself a piece of advice during your first year in graduate school, what would you say?
Keep your mind open. Take advantage of this transitional time to really get to know yourself and hone in on your scientific interests.