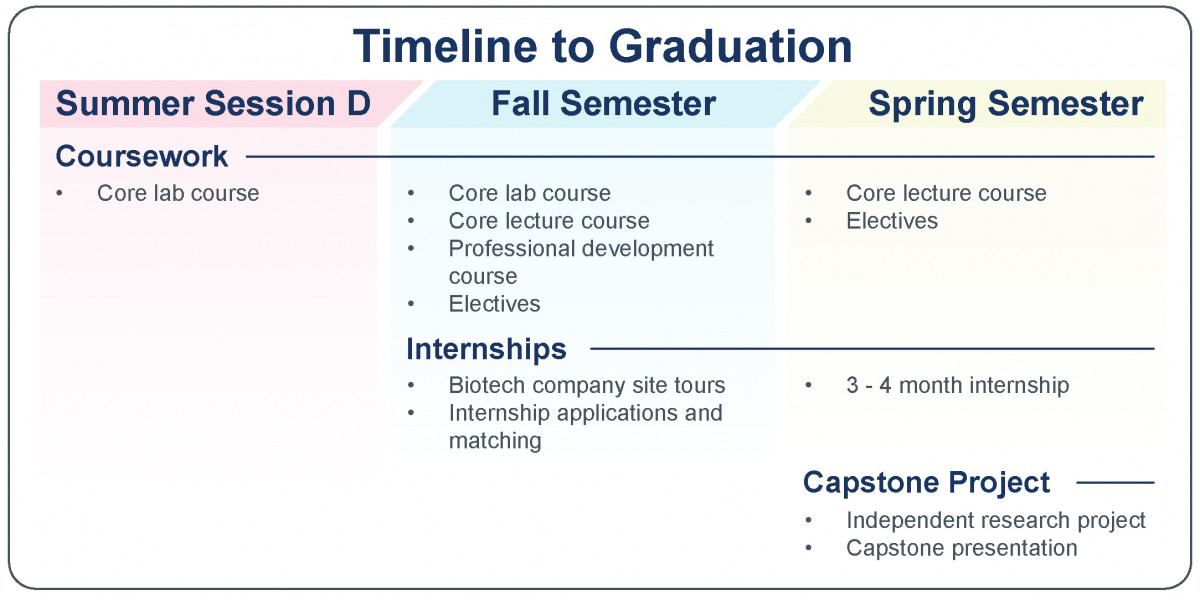 The Master of Biotechnology program is an accelerated one-year program with a 30-unit graduation requirement. Beginning in early July, all students take intensive core lab courses followed by complementary courses that will introduce students to the field of biotechnology, expand their knowledge of key biological concepts, and provide opportunities for students' professional development. The final semester will be largely devoted to students' internships, culminating in a capstone project report and presentation.
Core Lab Courses
Summer and Fall Semesters
Two integrated lab courses (MCB 201A/B) are specifically designed to train students on state-of-the-art technologies and data analysis, including CRISPR/Cas9 genome editing, stem cell culture, and bioinformatics. Students work closely with one another to run experiments, engage in data clubs, and discuss foundational papers in molecular biology.
The first lab course (MCB 201A) beginning in early July is a six-week bootcamp that combines in-depth lectures and discussions with hands-on laboratory sessions. The overarching goal of this class is to train students on the latest molecular techniques used in biomedical research and provide opportunities for students to connect with one another. By the end of this course, students will gain experience in cell culture, CRISPR-Cas9 genome editing, and common molecular biology techniques, while also developing their communication and critical thinking skills.
In the Fall, students take their second lab course (MCB 201B), which continues building upon the work they accomplished during the six-week lab. This second lab course emphasizes bioinformatics and analysis of the data they have generated from lab experiments. Students will learn fluorescence microscopy, biostatistics, and analysis of big datasets. On-going data clubs and journal clubs continue to provide opportunities for students to hone their science communication and critical thinking.
Core Lecture Courses
Fall and Spring Semesters
Students are required to take all core lecture courses during the Fall and Spring semesters.
The first of these courses (MCB 275) is offered in the Fall and serves to introduce students to the field of biotechnology. This class covers the history of biotechnology, its impact on medicine and society, as well as key methodologies used in the field. Students learn about important therapeutic areas and the range of career options available to them in the biopharmaceutical industry.
Alongside MCB 275, students are required to take MCB 227, a writing and professional development course that will provide coaching on professional career presentation and communication skills, preparing students for their internship interviews that take place towards the end of the Fall semester.
In the Spring semester, students will take MCB 288, a course on data science for molecular biology. This practically-oriented course sharpens students skills on the analysis, interpretation, and visualization of data and prepares them to apply what they have learned towards their capstone project. A Berkeley Stem Cell research seminar offered to students in the Spring provides opportunities to interact with the broader research community on campus.
Elective Courses
Fall and Spring Semesters
Electives courses during the Fall semester function to fill in any gaps in students' conceptual understanding of molecular biology, and electives offered during the Spring semester enable students to tailor their program experience to concentrate more on business or scientific tracks.
Please see the Course Schedule page for all elective courses offered.
Internship and Capstone Project
Spring Semester
The majority of students' Spring semester is devoted to their internships and the completion of their capstone project.
Our program's signature component, a 3-4 month internship, takes place each semester. Our placement and selection process ensures that each student is placed at a local biotech company or campus lab that fits their scientific interests and career goals. During their internship, students will perform full-time research, while working closely with their internship mentor and faculty advisor to develop their capstone project.
Each student's internship will culminate in the completion of their capstone project, an independent research project that the student has been working on during their internship. Once a week during the Spring semester, students will attend a capstone lecture course (MCB 289), where they will meet to discuss as a cohort their internship experiences and receive advice on their individual capstone projects. Towards the end of the program, students will put together a written report and present their work at a one-day research symposium attended by their cohort and faculty. The capstone project will be assessed by a committee composed of two faculty advisors with the student's industry mentor providing informal feedback.
More information on the internship program and capstone project can be found on the Internship Program page.